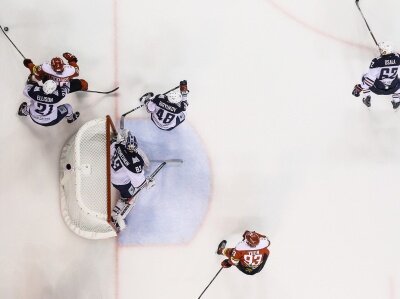 Battling Red Star snatches a point
Source: Club Press-Office
07.10.2017

Kunlun Red Star 2 Metallurg Magnitogorsk 3 SO

Red Star claimed a point against last season's Gagarin Cup runner-up after battling back from the loss of two early goals.

In a game that provided the first competitive match-up between Mike Keenan and his former charges at Metallurg Magnitogorsk – now, of course, coached by Ilya Vorobyov, one of Iron Mike's assistants during his time in the Urals – Kunlun showed once again the progress made in the early stages of this season.

Despite ultimately slipping to a shoot-out defeat, there was much in this performance to bring encouragement: mental resilience, to stay in the game after suffering all sorts of problems on an early 3-on-5 penalty kill; quality finishing from Cory Kane and Gilbert Brule to bring the team back level; solid goaltending from Tomi Karhunen, pitched into the action in the 14th minute and unbeaten for the next 50. And all this, of course, against truly top-notch opposition, one of the most formidable teams in the KHL's history.

Magnitka needed little invitation to show its class in the first period. Metallurg's much-vaunted power play revelled in the opportunities it had following minor penalties for Alexei Ponikarovsky and Joonas Jarvinen, scoring two goals in less than a minute to extract the maximum profit from its advantage. Matt Ellison got the first, working his way along the goal line before squeezing the puck between the near post and Magnus Hellberg's pad. Next came defenseman Grigory Dronov, … to make it 2-0 and end Hellberg's evening.

The situation demanded a quick response, and it came within two minutes through a wonderful finish from Kane. Wojtek Wolski, up against his former club, supplied the assist as Kane let rip with a wrist shot from the deep slot that had Vasily Koshechkin clutching at thin air.

Back in a one-goal game, Red Star's confidence grew. The second period saw the home team enjoy marginally the better of the play, and that momentum carried over into the third with a tying goal from Brule. Wolski was again at the heart of things, and his cute pass gave his colleague space to attack the net. Brule evaded the attentions of Nikita Pivtsakin and flashed a wrist shot across the face of Koshechkin to make it 2-2, 23 seconds into the final stanza.

That was the end of the scoring. Red Star absorbed a fair amount of Metallurg pressure, but our guys were giving nothing away. Not even a penalty on Brule in overtime could give Karhunen any great alarms as this season's defensive discipline paid off once again.

Karhunen was only beaten in the shoot-out. First, Geoff Kinrade gave Kunlun the advantage, but Jan Kovar tied it up and Ellison found a way through the five-hole to give Magnitka the verdict. Frustration at the last, especially when Wolski saw his shot saved, but once the disappointment of the result begins to fade, there are plenty of positives to take into next week's Siberian road trip.

Official game sheet