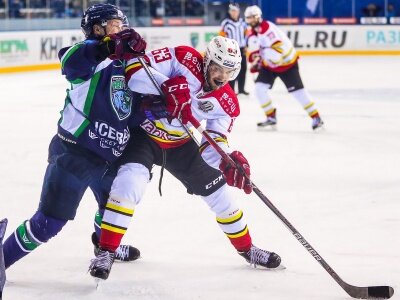 On the wrong end of a tight verdict
Source: Club Press-Office
11.10.2017

Ugra Khanty-Mansiysk 2 Kunlun Red Star 1

Another road trip got underway with Red Star, on the face of it, in decent form. Three victories from four games, and a point from an overtime loss against Metallurg, offered plenty of reasons for optimism.

However, closer analysis suggested that this streak, welcome as it was, might not have been quite as hot as it seemed. Every game was on a knife-edge, it was one-goal margins all the way. Hockey, perhaps more than any other game, is one of fine margins; the distance between victory and defeat, between success and failure can be painfully small. Past results offer scant guarantees of future outcomes, and teams facing tight verdicts are unlikely to keep winning them all.

Much of that was true of Tuesday's opponent, Ugra. The Khanty-Mansiysk team's slow start to the season prompted an early change of head coach, with Anatoly Yemelin replacing Igor Zakharkin and picking up three wins from four. All three outcomes came in overtime or shoot-outs: the evidence suggested there would be little to choose between the teams today.

The opening session reinforced the point. With the teams at full strength, the game was even. Ugra built up its shot count during three power plays, but could not beat Tomi Karhunen. Kunlun's PK remained effective, the disciplined, well-structured defense we've come to rely on this season was to the fore once again.

The second period began with Red Star in the ascendancy. Andrei Ankudinov was ejected from the game at the end of the first for a wild hit that left Marek Daloga sprawled on the ice. Our Slovak defenseman also played no further part in the game as he recovered from the blow, but our power play had a chance to show its worth after the intermission. Sadly, and not for the first time this season, the cutting edge was missing: five minutes came and went without a goal; Ugra almost immediately took another minor penalty and killed it successfully. It wasn't until late in the period, with the teams at full strength, that Wojtek Wolski opened the scoring. Cory Kane led a raid into enemy territory and dropped neat no-look pass onto Gilbert Brule's stick. Brule went to the net, and when his shot bounced up off Ilya Proskuryakov's body, Wolski took a swing at it and forced the puck into the net from point blank range.

The lead didn't last. Geoff Kinrade took a minor, and Veli-Matti Savinainen capitalized to tie the scores in the last minute of the second period. Then the Finn came out after the intermission to shoot home the game-winner just 31 seconds into the action. Red Star battled hard to get back into the game, but found Proskuryakov too strong between the piping. In a tight Eastern Conference, a game that could have seen us break into the top four finished with our team down in seventh. It's still good enough for a playoff spot (and those playoffs are still far in the future), but it's a placing that does not quite reflect the enhanced quality of our play this season. Those fine margins come into play once again.

Official game sheet