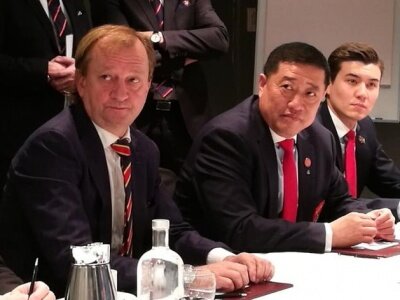 Jokerit Secures Exclusive Deal to Develop Chinese Ice Hockey
Source: Club Press-Office
05.04.2017

Jokerit and Beijing Kunlun Red Star have agreed on a ground-breaking deal to nurture the growth of ice hockey in China. Seeds for the co-operation were planted when Kunlun Red Star was tasked with developing Chinese national team ice hockey from junior to adult level.

The agreement is strategically significant as it strengthens Jokerit's presence in the Chinese market. Kunlun Red Star is the biggest player in a growing Chinese ice hockey market, and ice hockey is one of the most interesting sports at the upcoming winter Olympics. The development of ice hockey in China is done professionally and Kunlun Red Star is committed to this process.

"Jokerit was selected as our partner after thorough background work. The Helsinki-based team proved to be the best-run organization in the KHL as well as Europe. The team's storied history speaks for itself", says Mr. Xiaoyu Zhao, Chairman of Kunlun Red Star and Vice-President of the China Development Bank.

According to the Chairman of Jokerit, Harry Harkimo, the signing of this deal marks a significant moment in the club's history. "This agreement is a testament of our work developing Finnish ice hockey, and a marvelous start for Jokerit's 50th anniversary season."

Co-operation ranging from national teams to grass-roots as well as infrastructure

Earlier this month Kunlun Red Star was officially tasked with developing Chinese national team ice hockey. Going forward, China's under-20 national team will play in Russia's MHL junior league and the under-18 national team in the North-American Junior Hockey League. Kunlun Red Star will be in charge of building these teams.

Through the co-operation, Jokerit will play a big part in developing Chinese ice hockey in preparation to the 2022 Olympic Games in Beijing. The clubs will work together to develop Chinese ice hockey clubs, players, coaching and infrastructure as well as sales and marketing. For Jokerit, the agreement also presents the opportunity to develop the business of their partners in the Chinese market.

"It's a great privilege and honor to exclusively develop Chinese ice hockey on all levels. It speaks volumes of the level of trust in Jokerit that we were chosen. The professionalism and passion of the Chinese people towards growing ice hockey has made a big impression on us. The negotiations went smoothly and we have great expectations of the co-operation", says Jukka Kohonen, President and CEO of Jokerit.