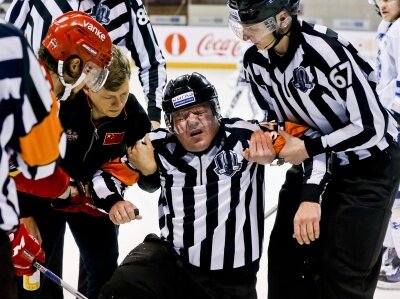 More frustration as Red Star battles in vain
Source: Club Press-Office
17.11.2017

Kunlun Red Star 0 Dinamo Minsk 2

Sometimes it feels like a team just can't catch a break. Thursday's encounter with Dinamo Minsk promised to be a battle between two clubs in similar positions. Both Red Star and our Belarusian visitor are scrapping for a playoff place in their respective conferences, and both had legitimate hopes of taking something from the game. Our recent form was not encouraging on paper – just one win in six coming into this match-up – but individual performances offered more grounds for hope. Each of those losses had been by a single goal, two of them had come after ties in regulation. With some more clinical finishing, with a kinder bounce of the puck, the whole picture might have looked very different.

However, this turned into another game of chances that got away from Red Star. Things might have been very different if Brandon DeFazio had found the target with his early chance. Our forward got free of the Dinamo defense and produced a shot that was too good for Jhonas Enroth, but saw the puck flash agonizingly wide of the far post. Still, Red Star pressed. Brandon Yip tested Enroth on the wraparound as the home team looked the more likely to find the opener, but those missed opportunities would come back to haunt the team in the second period.

Alas, once again, our opponent's finishing provided an unwelcome example for us. Andrei Stepanov opened the scoring in the 28th minute, exchanging passes with Dmitry Korobov and finishing off his colleague's slick stick-handling after Red Star tamely gave up possession in center ice. Things got worse late in the middle frame when Dinamo doubled its lead on the power play. This was a goal with a strong Canadian accent, as Marc-Andre Gragnani and Justin Fontain combined to set up Quinton Howden.

In the third period, again, Red Star carved out the better of the few chances on offer at either end. Wojtek Wolski had a decent look at Enroth early on, and a late rush after Magnus Hellberg was called to the bench produced a couple of half chances in front of the Belarusian net. But, with Dinamo by now able to lock down the game and defend its advantage, there was little encouragement for our forwards. Enroth finished the game with 23 saves, winning the battle of the Swedish goalies.

The loss robbed Kunlun of the chance to climb back into the playoff places – victory would have lifted our guys ahead of Sibir and into eighth place in what remains a fiercely competitive Eastern Conference. Instead, though, it was a fourth defeat in a row, continuing a dispiriting run of just two victories in 14 outings. Next up, we welcome defending champion SKA to Shanghai on Saturday.

Official game sheet