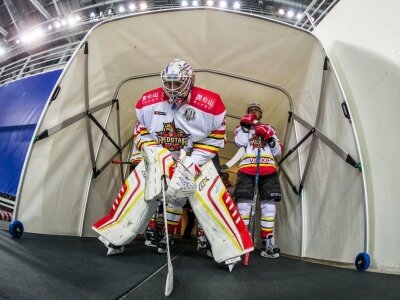 Homeward bound … and on a winning streak
Source: Club Press-Office
06.09.2017

Lada Togliatti 0 Kunlun Red Star 2

The marathon road trip came to an end at Lada – and our winning streak remains intact. A 2-0 success, and a first shut-out of the season, makes it four victories on the bounce and puts us on top of the Eastern Conference. It all adds up to a great start to the season.

Red Star's success has already started earning recognition outside of our organization. Monday brought news that Pavel Vorobei, our 19-year-old defenseman, had been nominated as the KHL's rookie of the week for his role in our three wins last week. The Belarusian-born youngster, who had never played in the KHL prior to this season, shows no sign of slowing down: his shot from the point in the fifth minute set up Kyle Chipchura for the opening goal at Lada.

That early breakthrough, on the back of a wild game in Chelyabinsk two days earlier, might have raised expectations of another high-scoring encounter. But this was a very different game. As Andrei Kostitsyn pointed out in a flash interview during the second intermission, Lada's arena is compact; the ice is tight, the team plays a tough, disciplined brand of hockey and it's rarely a venue for free-flowing, high-scoring games.

So it proved. Chances were few and far between, defenses were on top. Happily, that early goal meant that Kunlun had something to hold onto, and managed to do so fairly comfortably. Magnus Hellberg pulled off 23 saves, and our goalie was at his busiest early in the second period. Lada created a rare dangerous moment around our net on the power play, but the chance was lost when Rafael Akhmetov fanned his shot from a threatening position. Hellberg also came up big in a few scrambles on the slot, while our defense blocked 13 shots in a determined display.

There were chances at the other end too, with Vorobei testing Alexander Lazushin from the blue line late in the middle stanza, and the clinching goal arrived early in the third. Wojtek Wolski wrote his name on the scoresheet for the third game running, helped by a howler from Dmitry Kostomitin, whose attempted clearance presented our forward with the puck in front of an empty net. Wolski needed no second invitation.

The result was now clear. Lada continued to press, but found little encouragement in the Red Star zone. Cory Kane almost added a third, denied by a fine stick save from Lazushin late on. An awkward engagement came to a successful conclusion.

And so, with five victories from seven games on a journey that stretched from the Black Sea to the Urals, our Dragons return to their nest. The home campaign begins Saturday with the visit of Jokerit. It's a chance – at last – for Shanghai's hockey fans to get a look at what their new-look team can do. It's very early days, but the signs are clear: under the guidance of Mike Keenan, Red Star is capable of reaching new heights. Join us on Saturday and be part of Shanghai's hockey journey from the start.