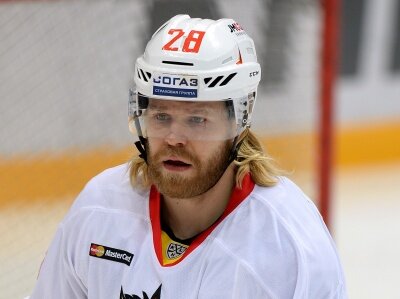 From heaven to earth. Happy birthday, Miika Lahti!
Source: Club Press-Office
06.02.2017

Today, Miika Lahti celebrates his 30th birthday. Lahti, perhaps the most imposing of our players, is certainly one of the most eye-catching. His long, fair hair and thick beard put most people in mind of Thor, the Norse God of Thunder.

But Thor, whose ancient cult has undergone something of a revival thanks to a series of action movies, is a figure from Scandinavian mythology; Lahti is a Finn, so it is more appropriate to turn to Arto Paasilinna's masterpiece, "Son of the God of Thunder". That Finnish classic tells of how Rutja was sent from heaven to Earth to set things in order and reconnect Finland to its spiritual roots. It's an exalted mission, but it turns into a learning curve for the junior deity as he begins to understand more about mortals and their hectic life on Earth.

Similarly, Miika dived headlong into a completely new environment when he joined Kunlun this season. His previous 29 birthdays were celebrated in small-town Finland, growing up in Konnevesi (population about 3,000) before spending 15 years playing for his local team in Jyväskylä. A small-town boy, but with big achievements: after progressing through all the club's age-groups, he was twice a Finnish champion.

Then, like Rutja, Miika was plunged into a whirl of new experiences. Based in Beijing and Shanghai, visiting other big cities with populations bigger than the whole of Finland. Hours spent in aircraft, endless jetlag. For our shy, quiet Miika, all this was completely new.

All these trials were met with dignity – our center is the strong, silent type – and his response to an injury that has kept him out for three months was similarly stoic. Now, at last, he is coming back to full fitness and we are all looking forward to seeing him back in action as the KHL season reaches its decisive phase.

Happy birthday, Miika!