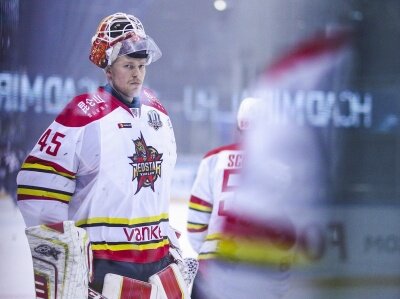 Ringing out the Old Year, looking forward to the New
Source: Club Press-Office
30.12.2017

Admiral Vladivostok 0 Kunlun Red Star 2

Friday's trip to Vladivostok brought down the curtain on Red Star's 2017 program, completing our club's first full calendar year in top-level hockey action. And what a year it's been: memorable moments and fantastic achievements, such as securing a playoff place in our rookie season and steadily growing an audience for our games in Beijing and Shanghai. We've played our part in some milestones – Mike Keenan's 100th regular season KHL victory, Sergei Mozyakin's 1,000th career point – and delivered unforgettable games, such as the home ice victory over Metallurg during our playoff series.

Red Star's players have been called up to represent the club at the KHL's All-Star games, and we've supplied members of the Canadian and Swedish rosters for those nations' recent Euro Hockey Tour campaigns. Come February, it's entirely possible that a Chinese hockey club will – for the first time ever – send players to the Olympic Winter Games, fully four years before the big show comes to Beijing. And we are nurturing new stars of our own, with rookie defenseman Pavel Vorobei earning rave reviews for his performances in our colors this season.

So, as the team set sail for its meeting with Admiral, there was much to reflect on from a groundbreaking year. Despite the frustration about our current season, it's important to take time to look back at how much this young organization has achieved and draw confidence from the significant steps taken so far. And, in celebrating the closure of one chapter, look ahead to writing further glorious pages in Red Star's history.

Friday's game was a clash against a team undergoing a rapid transition. The KHL transfer deadline passed with a flurry of departures from Vladivostok, a once-closed port city suddenly wide open for business. Among the changes, our opponent brought in Andrei Razin as head coach as a new-look roster begins to emerge. Our task was cut short Razin's welcome to the hot seat, and within five minutes we did just that. Slack play by home defenseman Renat Mamashev allowed Cory Kane to steal the puck and feed Brandon Yip. Yip duly obliged with his seventh goal of the season, ending an eight-game goalless run that dated back to November 18.

The rest of the first period was all about Magnus Hellberg, with our Swedish international standing firm as Admiral launched a fusillade at his net. That broadside was unsuccessful, and the home armada was scattered in the middle frame when it was our turn to dominate the shooting, albeit without extending our lead. Hellberg proved unsinkable to the last, finishing the day with 28 saves to record his sixth shut-out of the season; Red Star finished the game and the year on a high with Lucas Lessio finding the empty net in the last minute.

The New Year holidays bring a short break in the KHL campaign, but Red Star is back in action on January 3 against Avangard. That kicks off a three-game home stand, with Ugra and Sibir also heading our way at the start of 2018.

Official game sheet