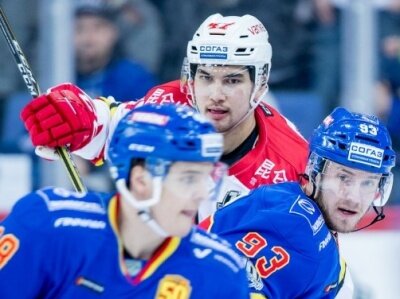 Different details, similar story
Source: Club Press-Office
12.01.2018

Jokerit Helsinki 3 Kunlun Red Star 1

It's not a long journey from St. Petersburg to Helsinki, neither in geographical terms nor hockey ones. And, after a battling performance against SKA ended in defeat in the final stages, it perhaps wasn't surprising that our trip to Jokerit followed a similar pattern. For two periods, Red Star was fully in this game; the third saw a powerful opponent finally manage to get over the line with the win.

The games were not carbon copies, of course. If Tuesday's match-up with SKA began with a roller-coaster first period that had more in common with an All-Star Game than a league encounter, Thursday's action in Finland saw Magnus Hellberg under close scrutiny in the first period. Even in the first minute, our Swedish goalie was giving everything to uphold his country's honor against its old neighbor and rival, making a big, big save to deny Niklas Jensen an early goal. He was back at it on an early Finnish power play as Jokerit made an impressive start to the game, only to lose momentum as the period progressed and the Red Star defense began to frustrate its opposition.

The second period was far more even: the teams created chances at both ends. Jokerit went in front through Pekka Jormakka, but Red Star soon tied it up through Lucas Lessio. It was a classic breakaway goal, with the Canadian carrying Brandon Yip's pass out of Red Star's zone and evading Sami Lepisto as the Finnish D-man drifted out of position. That left Lessio with a clear – if extended – path to the net, and once up close with Ryan Zapolski he beat the goalie with a backhand finish to deservedly tie the game.

The decisive action came either side of the second intermission. Penalties for Joonas Jarvinen and Cory Kane gave the Finns a 5-on-3 advantage, and Lepisto took advantage to atone for his earlier error of judgement. Once back at full strength, Red Star created the better opportunities and the game was heading for a nervous finish. A dangerous Arturs Kulda shot heralded a late storm on Zapolski's net, but once Hellberg headed to the bench our resistance was ended. Olli Palola fired into an empty net, Jokerit led 3-1 and there was no way back.

Now the season takes a short break for the All-Star Game, held this year in Astana. Last season, Chad Rau helped the Chernyshev Division to win it all; this year Magnus Hellberg is Red Star's representative at the big show. KHL action is back on January 16 with a trip to Dynamo Moscow.

Official game sheet