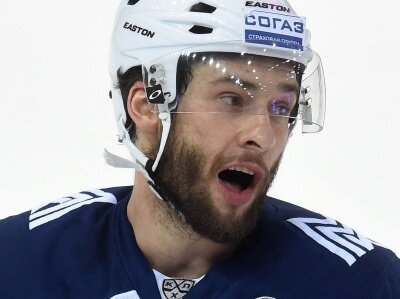 The Signing of the Four. Update on new players
Source: Club Press-Office
15.06.2017

Now that two weeks have elapsed since we penned our team-building progress report, the time has come to post an update on further developments. Understandably, the recruitment drive has slowed considerably since the frenzy of activity throughout the month of May, but over the past fortnight a few more gaps in the roster have been filled, and here we shall take a closer look at four new weapons in the Kunlun arsenal.

Three of the new arrivals have KHL experience, and we start with former Sibir, Salavat Yulaev, and Jokerit defenseman Arturs Kulda. The 28-year-old Latvian international spent the past five seasons in the KHL, claiming a Russian Championship silver in 2014 with the Ufa Men and racking up 263 appearances in total. He has also tasted hockey on the other side of the Pacific: a decade ago, Arturs was AHL Calder Cup Champion with the Chicago Wolves, and he made 15 NHL appearances in two short spells with the Atlanta Thrashers and Winnipeg Jets.

Our second new defenseman is considerably younger. Nikita Khlystov is 23 years old, Russian, and has accumulated 138 appearances in the KHL for Traktor, Metallurg Novokuznetsk and Ugra. Last season Nikita played 45 games for the Khanty-Mansiysk team, recording one goal and seven assists. but has decided to continue his career in China. If he gets homesick for Russia (no reason to suspect he will, but anything can happen), he can share reminiscences with fellow defenseman Rinat Ibragimov, who was his team-mate at Ugra last year.

The third new arrival needs little in the way of an introduction, but here are a couple of clues: 480 games and 284 (107+177) points in the NHL, plus one Gagarin Cup. Yes, Polish forward Wojtek Wolski (pictured), 31, is a most welcome addition to our offensive lines, and our first task should be to congratulate him on his recovery from the serious injury he sustained in Magnitogorsk playing for Metallurg against Barys. Wojtek suffered broken vertebrae in his neck, and for a while it seemed his career and even his life was in severe danger. Thankfully, these fears receded, and he is now fully fit and raring to go. He can also draw fresh motivation from being reunited with his former coach, Mike Keenan, whose preparations for the 2015-16 season included bringing Wolski to Metallurg and placing him in a line with Jan Kovar and Sergei Mozyakin. Incidentally, in our ranks we now have a veteran of each of Magnitka's Gagarin Cup triumphs: Ibragimov (2014) and Wolski (2016).

The fourth new face belongs to a forward, 28-year-old Canadian Brandon DeFazio. He has 2 NHL appearances under his belt, for the Vancouver Canucks in 2014-15, and he boasts a highly impressive record in the AHL over the past three regular seasons. He amassed 43 (21+22) points in 2014-15 (with the Utica Comets), 43 (22+21) in 2015-16 (Providence Bruins) and 47 (22+25) in 2016-17 with the Texas Stars. Kunlun is currently in talks with another Texas Stars player, 26-year-old forward Ethan Werek. He has represented Canada at U18 level, but also, significantly, has Chinese roots. However, at the time of writing, negotiations with Ethan were still in progress.

That was our summary of the past two weeks, but there is sure to be further news before the preseason matches get underway, so watch this space and stay tuned!