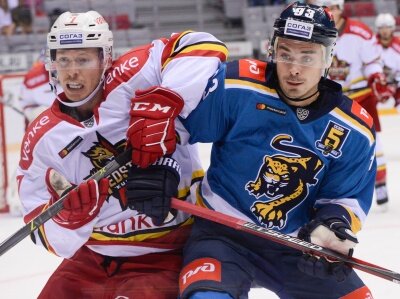 The first point
Source: Club Press-Office
06.09.2018

HC Sochi 2 Kunlun Red Star 1 OT

Red Star collected its first point of the season in a hard-fought game in Sochi – but Jussi Tapola was just moments away from celebrating his first KHL victory as our head coach.

In a tight game of few chances, it looked like the win was there for the taking when Victor Bartley fired us in front early in the third period. The defenseman, who also opened the scoring in Kunlun's previous game at Jokerit, produced a thunderous point shot from Justin Fontain's pass and left Dmitry Shikhov with no chance as Rok Ticar supplied the traffic in front of the net.

But as the game went into the last five minutes, Sochi tied it up with a power play. Damir Musin did the damage, going around the back and forcing the puck home from a tight angle to force overtime. This season, new KHL rules mean that victory is worth two points, whether in overtime or regulation, but Red Star was unable to claim the win this time. Robert Rosen broke free and put a wrister past Ivan Nalimov 82 seconds into the extras.

That was rough justice for our team after a performance that had much to recommend it. The game might have lacked goalscoring thrills and spills, but our boys produced a fine display of disciplined hockey to hold Sochi's offense at bay. When there were chances around our net, the defense was alert to the danger: witness the incident in the first period when Alexander Polunin burst through the defense and smashed in an angled shot that Nalimov got a piece of. The puck was still dribbling towards the net, though, and it took the timely intervention of Ondrej Vitasek to save Red Star from going behind.

At the other end, the power play looked lively and that might have produced the opening goal through Taylor Beck shortly after Vitasek's save. Then, in the second stanza, there was an even better chance when Rok Ticar found himself free in front of Shikin's net, only for his backhand shot to be beaten away by the Sochi goalie. The margins between winning and losing this game were as thin as could be imagined.

So, two games and two defeats. But, with a completely new roster, it was always likely that things would take time to gel. Those opening games have taught us plenty – and highlighted some positives to take forward into our next engagements. The solidity of the team's game in Sochi, going out on the road and restricting the opposition's scoring chances for long periods, bodes well for Red Star's ability to be competitive against all-comers this time around. On offense, everything is still very new: the late arrival of guys like Ticar meant some last-minute reshuffling of the lines. But the chemistry is forming. And, as Victor Bartley and Marc-Andre Gragnani have already demonstrated in emphatic fashion, there's plenty of productivity to come from the blue line this season. Our next opponent, Spartak, may have begun its campaign with two victories, but we can head to Moscow in an upbeat mood.