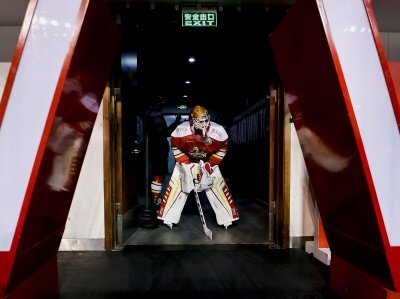 Dawes delivers as Kunlun's season closes
Source: Club Press-Office
29.01.2018

Kunlun Red Star 0 Barys Astana 4

The final outing for our guys this season saw us take on Barys Astana in Shanghai. It was not, in truth, a game with much riding on it: both teams had endured similar campaigns, with early promise fading into protracted struggle; both were well adrift of the playoffs long before Sunday's meeting.

But even without any great significance to the competition, the evening still offered a chance to thank our loyal fans for their backing throughout a difficult campaign – and offered the hope of rounding off a tough year with something to cheer.

It also, of course, enables everyone at the club to reflect on what has been achieved in our second year of action. While results did not build on the successes of our rookie campaign, the foundations laid in this sophomore year highlight the extent to which the Red Star organization is developing. More international call-ups than ever, including two Olympic-bound players in the form of Canadian forward Gilbert Brule and Swedish goalie Magnus Hellberg (the first time ever a hockey club based in China will have representation at the pinnacle of the sport). Two more upcoming Olympians, Canadian forward Wojtek Wolski and Slovak D-man Marek Daloga, spent the bulk of the season here. More players with Chinese roots getting ice time in a high-level competition. More opportunities throughout the organization, with the establishment of our Heilongjiang feeder club and the creation of a women's team. The short term might have been a hard ride, but the big picture remains hugely encouraging as we look to contribute to the growth of hockey in China ahead of the 2022 Winter Olympics in Beijing.

It certainly makes for a more satisfactory sign-off than our final game of the season, which rather followed the path of the campaign itself. Competitive early on, Red Star enjoyed the better of the opening frame but suffered once again from difficulties converting the chances created. Into the second period, Kunlun's enthusiasm cost it: another raid on Barys territory ended with a turnover, and a clinical finish from Nigel Dawes to open the scoring.

Red Star was still enjoying the bulk of the attacking play, but got caught again just before the half hour. Dawes turned provider, Dmitry Shevchenko hit the net, and Barys – somewhat undeservedly – had a commanding advantage. From that point on, the game drifted away. Two further goals from Roman Savchenko and Dmitry Gurkov saw Barys ease to victory.

Our 56 games yielded 19 victories – 15 in regulation – for 61 points and 12th place in the Eastern Conference. Defensively, allowing 146 goals was competitive, a tribute to the consistent performances of Hellberg, one of those upcoming Olympians. On offense, though, things were harder. Just 103 goals, currently the fourth lowest tally in the KHL, underlined the team's problems. Brule finished as top scorer with 35 (17+18) points from 45 games, Wolski's 28-point haul was next, despite only featuring 32 times before returning to Magnitogorsk. On defense, we enjoyed the emergence of young Belorusian Pavel Vorobei. He finished with 12 (4+8) to lead the scoring from the blue line.

Official game sheet