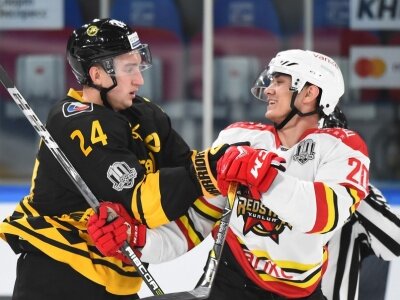 Tempers flare in Cherepovets
Source: Club Press-Office
22.09.2017

Severstal Cherepovets 5 Kunlun Red Star 4

An evening of frustration ended with a narrow defeat – and an angry exchange between our head coach, Mike Keenan, and the game officials at Severstal. The row, which happened after the hooter sounded on a battling 4-5 loss, reflected a string of penalties called against our team in the final 10 minutes of the game. Those calls, which saw Luke Lockhart, Gilbert Brule, Cory Kane and Joonas Jarvinen spending time in the box, ultimately cost Red Star two goals and ended our chances of taking something from a highly competitive game.

Even in the midst of that sequence of minor penalties, Brandon DeFazio got a shorthanded goal to keep our hopes alive until the very end, but Adam Masuhr's strike for Severstal moments earlier – converting a 5-on-3 power play – had given the host an unassailable lead.

That late flaring of excitement run counter to the opening exchanges of this game. The first period produced no goals and few flashpoints, the second saw Masuhr and DeFazio trade their first goals of the night. But later in that session Ruslan Karlin put Severstal in front on a power play goal while Brandon Yip served a minor for slashing, and one of the evening's key themes came into view.

Dmitry Kagarlitsky extended Severstal's lead early in the third, but then came an impressive fightback. Cory Kane and Brandon Yip scored two goals in the space of just 51 seconds to tie the scores on 46 minutes. Kane reduced the deficit, beating Julius Hudacek stick side with a wrister off Kyle Chipchura's feed, then Yip levelled the scores with a close-range finish as the puck rattled around in front of the home net.

Then came the penalties: Lockhart for interference, and Severstal back ahead through Alexander Yevseyenkov. Brule for holding, and the penalty killed. But when Kane and Jarvinen followed each other into trouble, the pressure was too great. Severstal got what proved to be the game-winner.

Even then, Red Star refused to give up. Still shorthanded, we made it a one-goal game with two-and-a-half minutes to play. Pavel Chernov lost possession for the home team and Yip brought play from one end of the ice to the other before finding DeFazio for his second of the night. There was still hope, even as tempers continued to flare on both sides. Kunlun even finished the night on the power play after Valery Vasilyev was sent to the box with 29 seconds left, but there was no way to force overtime on this occasion.

After tonight's high-scoring encounter, our next game takes us to Spartak – a team that played in a 13-goal thriller while we were in Cherepovets. Saturday's game promises plenty of excitement.

Official game sheet