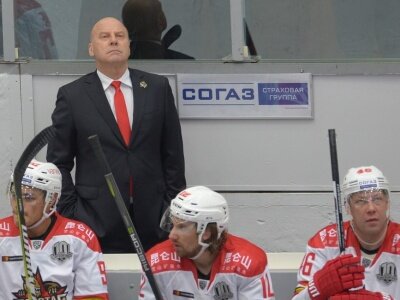 Late lapse proves costly for Kunlun
Source: Club Press-Office
20.09.2017

Torpedo Nizhny Novgorod 3 Kunlun Red Star 1

After climbing to the top of the Eastern Conference during our home stand in Shanghai, confidence was understandably high going into our latest adventure on the road. Goalie Magnus Hellberg – six victories from eight outings ahead of Tuesday's game – was in impressive form, having shut out Slovan and Vityaz in successive games. At the other end, Wojtek Wolski had been among the points in each of his seven games for the club so far, while Gilbert Brule had scored in each of the last three.

So there were plenty of reasons for optimism on the way to Nizhny Novgorod for the match-up against Torpedo. And, early on, that confidence was fully justified. Torpedo is always a difficult opponent, but Red Star was more than a match for the host in the first period and took a deserved lead after 16 minutes. Unusually, neither Wolski nor Brule was involved in this one. Instead, Andreas Thurreson got his first goal for Kunlun, producing a backhand finish on the wraparound after a Joonas Jarvinen shot from the point.

So far, so good. Torpedo was testing, but not hugely menacing: Hellberg's composure reassured our defense and the first period progressed with relatively little action around either net. Instead we saw plenty of hard-hitting play – 22 hits shared between the teams in the first session as Peteris Skudra's team lived up to its reputation for a robust approach and found Kunlun more than willing to go blow-for-blow.

Gradually, though, the home team began to gain a little edge on offense. The puck was spending more time in our zone and the pressure was starting to build. For a long time, there was little sign of a goal, but our offense was struggling to create the opportunities that might make the game safe.

Then it happened. In the 53rd minute, a powerful Evgeny Mozer shot deflected by Brule's stick flew past Hellberg. After 172:57, the goalie was beaten. Tied at 1-1, and buoyed by a relieved home crowd, Torpedo pushed for the win. Denis Parshin's feed from behind the net found Vladimir Galuzin for the game-winner, Kaspars Daugavins scored into an empty net to complete the scoring. Three goals in the last eight minutes took us from the brink of victory to the disappointment of defeat.

But the action picks up again right away. On Thursday we go to Severstal, where Thurreson has a chance to meet his former club from his previous season in the KHL. The road trip continues to Spartak Moscow (Saturday) and Dinamo Riga (Monday) before Red Star returns to China.

Official game sheet