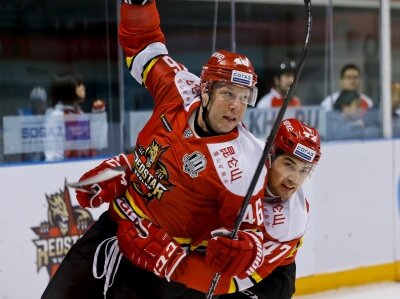 When Christmas comes twice a year
Source: Club Press-Office
08.01.2018

Kunlun Red Star 7 Sibir Novosibirsk 4

This season's first attempts to giftwrap a Christmas present for Red Star's fans went somewhat awry. Happily, playing in a league established in Russia means there's a second chance at the festivities as the Orthodox Church celebrates the birth of Christ on January 7. And this 'Russian Christmas' delivered a bonus for our guys in the shape of a victory at home to Sibir.

The result snapped a five-game winning streak for our former head coach Vladimir Yurzinov, whose arrival in Novosibirsk prompted an upswing in Sibir's fortunes that has moved the team to the brink of the playoffs. It also completed a second victory of the season over this opponent: we won 3-0 in Siberia back in October.

Better still, after a season in which goals have been hard to come by, this gift was wrapped up in a colorful display of scoring prowess. Red Star rattled in five, battling back from 1-3 down to turn the game around and edge the verdict by the odd goal in nine. The decisive passage came at the start of the third period.

Having already come back to tie the scores at 3-3, Kunlun began the final stanza in fine style. An early power play enabled Arturs Kulda to smash home the 4-3 goal from the blue line, and within a minute it was five thanks to Cory Kane. This time it was a flowing move from end to end, with Kane collecting Brandon Yip's pass and placing a wrister beyond Alexei Krasikov. That was the end of Krasikov's evening in the Sibir net: Alexander Salak came in to replace him for the remaining 16 minutes of play.

There was still time for the teams to trade more goals. Jonas Enlund, who had a brief spell with our club last season, managed to get his first goal in China to bring Sibir back into contention. But his team's hopes were effectively ended in the 55th minute when Lucas Lessio restored Red Star's two-goal advantage. Gilbert Brule put his second goal of the game into an empty net to conclude our highest-scoring victory of the season.

Kane claimed the game-winner, and also played a part as Red Star made a bright start to the game, converting the first power play of the evening in the fourth minute. He slalomed down the right-hand boards and left three D-men trailing in his wake as he made for the net. On getting there, Kane showed great vision to pick out Andrei Kostitsyn for a close-range finish.

After that, though, things began to go astray. Alexander Sharov tied the game in the 16th minute, and the second period began catastrophically. Stepan Sannikov put Sibir up on 21:05, Alexander Skrynnik replaced Magnus Hellberg in the Red Star net, and almost immediately found himself retrieving the puck after Sharov scored his second of the game.

The road back began at the midway point. Yip reduced the deficit, shooting home after taking a drop pass from Brendan O'Donnell, then Brule produced a typically emphatic finish from Taylor Beck's feed to tie the game before the second intermission. From then on, the momentum was decisively in Red Star's favor, and those early goals in the third set up the win.

Official game sheet