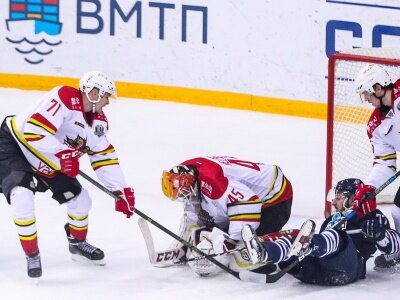 Fightback falls narrowly short
Source: Club Press-Office
08.12.2017

Admiral Vladivostok 4 Kunlun Red Star 2

After suffering two shoot-out losses against Admiral this season, there was a sense of unfinished business ahead of this game. Going close twice, only to miss out by the narrowest of margins, inevitably sparks frustration. Sadly, despite a brave effort, Thursday's game could not deliver the antidote.

Admiral took an early lead with help from a 5-on-3 power play. As Wojtek Wolski and Kyle Chipchura sat it out, Viktor Alexandrov took advantage of our depleted numbers to slot home the opener in the sixth minute. Worse was to come: despite our offense creating chances to get back into the game, we couldn't get past Ivan Nalimov and, at the other end, Admiral grabbed a second through Anton Volchenkov. As the first intermission came around, the consolation lay in the performance, rather than the scoreline: much of the play was even, the decisive difference lay in Admiral's more clinical finishing.

Maintaining that optimism, though, demanded a strong start to the second period. Instead, Admiral grabbed a third goal inside the first minute, pushing the game out of reach. Alexandrov's pass cut our defense apart, Dmitry Sayustov pushed the puck across the face of the net and Vladimir Tkachyov slid in to apply the finish.

Finally, Red Star found a way to respond. Our team's character, even in a challenging campaign, has never been in doubt and once again the guys began to battle out of adversity. After all, our previous two meetings with Admiral had been close, settled in shoot-outs; now was not the time to allow our old foe from Vladivostok to cruise to a convincing win. Thus inspired, Lucas Lessio trimmed the deficit shortly after the halfway stage with a neat wrist shot after Joonas Jarvinen's pass turned defense into attack.

In the third, Admiral was denied a fourth goal when the video review showed that the puck had not crossed the line, and Red Star made the most of that reprieve when Taylor Beck scored a couple of minutes later. It was a fine individual effort, collecting another astute Jarvinen feed and surging down the left before turning a defenseman inside out and pinging a back hand over Nalimov's shoulder. Beck has already shown a useful knack for popping up with important goals, and this one put us right back into contention in a game that had been threatening to get away. One last push, and that three-goal deficit would be eaten up. Instead, though, a penalty against Lessio offered Admiral a chance to make the game safe. Tkachyov potted his second of the game and there was no time for Red Star to fight back once again.

The season now pauses for another round of international action, and in Moscow three of our players will join up with Team Canada at the Channel 1 Cup. KHL action returns on December 18 when we entertain Dinamo Riga and look to complete a 'double' over the Latvians after a 2-1 victory beside the Baltic back in September.

Official game sheet