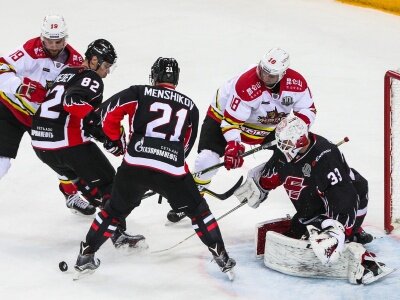 Denied by Dominik – Red Star frustrated by Furch
Source: Club Press-Office
13.10.2017

Avangard Omsk 3 Kunlun Red Star 0

Sometimes, it just isn't your day. Sometimes, you run into a goalie who manages to stop everything. There wasn't all that much wrong with most of Red Star's performance at Avangard, but a 0-3 reverse was scant reward for a lively performance.

The problem was home goalie Dominik Furch. The Czech international is a proven performer at the highest level and, unluckily for Kunlun, he was on top of his game today. Furch turned away 41 shots on his net as the evening got more and more frustrating for our boys. It wasn't just a fusillade of hopeful long-range efforts either; Gilbert Brule and Brandon De Fazio shared 13 attempts between them as our offense generated plenty of opportunities - especially in the third period - without finding the solution to Furch's fine form.

At the other end, Valentin Pyanov was the difference-maker. His vision created Avangard's opening goal in the 32nd minute. At that stage, the game was truly in the balance with both teams creating chances and both goalies looking solid. But when Pyanov led a break-out and spurned the obvious pass to find rookie defenseman Maxim Mineyev arriving unmarked on the point, Avangard forged ahead. Mineyev's one-timer was actually wide but thanks to lucky deflection from Brayden Jaw body the game tipped decisively in the host's favor. Evgeny Medvedev added a second as the middle session came to an end; Pyanov scored the third to complete a good day for him and his team.

Where next? Three defeats in a row does not make for encouraging reading, although in all three games against Metallurg, Ugra and now Avangard the outcome could have been very different with a kinder bounce of the puck or more ruthlessness in front of the opposition net. It's a similar situation with the league standings. Eighth place in the Eastern Conference looks somewhat nervous, but just 10 points separate Red Star from table-topping Ak Bars; the gap from eighth to ninth is already four points.

So, despite cause for disappointment, there's no need for panic. In the near future there's an 11-game home stand coming up, something that starts to redress the imbalance between our home games and road trips. And, as regular watchers will confirm, this team is coming together more effectively with each passing week as a roster brought together over the summer gains more experience of playing together and implementing the systems of head coach Mike Keenan.
Red Star's next game is away to Barys on Saturday, then it's a trip to Sibir on Monday before beginning that long home sequence on October 21.

Official game sheet