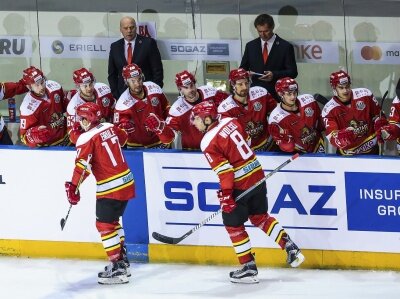 Power play strikes deliver important win
Source: Club Press-Office
30.09.2017

Kunlun Red Star 2 Avtomobilist Yekaterinburg 1

Kunlun moved back up to top four in the Eastern Conference with victory on its return to Shanghai. A hard-fought battle with Avtomobilist could have gone either way, but a pair of power play goals was enough to give Red Star a tight verdict and lift our team up to 27 points, just four adrift of Conference leader Ak Bars.

It was an important victory. Not just because it allows the team to build on a successful conclusion to its difficult recent road trip, but because it gave an idea of how we compare with another Eastern Conference team that has been punching above its weight this season. Avtomobilist, encouraged by careful summer recruitment, has improved into an outfit battling at the upper end of an unusually congested conference table. Much like our own team, Avto has contributed to an enthralling contest for seniority, challenging the traditional power houses to step up and justify their status as perennial favorites.

The good news keeps coming. Two power play goals gave a much-needed boost to the performance of Kunlun's special teams. Coming into Saturday's game, Red Star had managed just six power play goals in 15 games, a disappointing return. Today's success lifts the tally to eight, and brings the conversion rate over 15%. It's still ranked down in 18th in the league, but there are, at last, signs of improvement.

Those goals came early and late. Geoff Kinrade got the first, cancelling out Alexei Vasilevsky's thunderous opening strike for Avto after a Wojtek Wolski shot sparked a scramble in front of Jakub Kovar's crease. Then, in the last five minutes, with the visitor's Alexander Torchenyuk ejected from the game for tripping Kyle Chipchura long after the puck had gone, Brandon Yip grabbed the game-winner.

Yip saw his chance to advance into a dangerous position as Avtomobilist's defense struggled to recover its position; Matias Myttynen screened Kovar and Yip fired in a wrist shot from inside the circle to put the home team in front for the first time. That proved to be enough for the win.

The game was far from straightforward, though. Even before Avto took its lead, Magnus Hellberg was relieved to see an effort from Alexei Mikhnov hit the post. For much of the encounter, Hellberg was the busier of the two goalies – the Swede made 17 saves in a frantic second period as the Yekaterinburg team moved its heavy artillery into position and launched something of a bombardment of our net from its defensemen. Once again, our own blue liners deserve credit: discipline and organization made it hard for the opposition to get inside and have close looks at the net. That kept us in contention as the third period began.

And so, a return to Shanghai and another victory. Home stand continues with Monday clash with Traktor , then Lada and Metallurg come to the world's most populated city on October 4th and 6th respectively.

Official game sheet