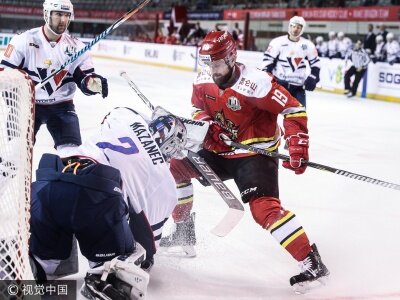 Hellberg freezes out Slovan, Red Star claims first home win
Source: Club Press-Office
14.09.2017

Kunlun Red Star 2 Slovan Bratislava 0

That long-awaited first home victory of the season has arrived. Following a false start against Jokerit and a battling loss against CSKA, our boys overcame their frustrations to freeze out Slovan and get back to winning form.

It was a success built on rock-solid goaltending, with Magnus Hellberg collecting his second shut-out of the season after turning away 37 attempts from Slovan. Our defense, once again, was in an uncompromising mood: check out the third period when, with the Slovaks chasing the game hard, six blocked shots showed players putting their bodies on the line to preserve the lead. That physical commitment to the cause was visible from the first seconds when Geoff Kinrade took a puck to the face in the second minute of the game. With barely a moment's hesitation he was back in the game, and completed more than 20 minutes on the ice to help his team secure the win.

That winning scoreline came from goals from Andrei Kostitsyn and Gilbert Brule. Kostitsyn potted his first since joining from HC Sochi, unleashing a mighty strike from a central position and seeing it squirm through Marek Mazanec's defences. That goal came at the end of a high-tempo, even first period and gave Red Star a huge lift. Suddenly some of the pressure came off, and our second period play was more dominant.

Slovan began taking penalties, and with two visiting players in the sin bin, Kunlun took advantage. Brule's one-timer at the far post made it two goals in three games for our new signing, but the play was all about Wojtek Wolski's astute pass across the face of Mazanec's net, evading opposing sticks and presenting Brule with a gift-wrapped scoring opportunity. The puck ended up in Slovan's net for a third time soon afterwards when Brett Bellemore's shot from out wide was deflected home by Brandon DeFazio. DeFazio, who celebrated his birthday yesterday, thought he had claimed his fourth goal of the season for his present. Sadly, though, the Canadian's celebrations were cut short by the officials, who ruled off the goal for a perceived kicking motion as DeFazio diverted the puck into the net.

Taking a two-goal lead into the final stanza, Kunlun had to be wary of a counter-punch from a Slovan team that had taken its last two games to overtime. The visitor did all it could to make it three in a row, dictating much of the play in the third and giving Hellberg a testing work-out. But Red Star held firm, and once the home team successfully killed Bellemore's minor penalty it was hard to see the score changing significantly in the closing minutes.
The victory was especially sweet for two of our players. Marek Daloga and Kyle Chipchura both joined us from Slovan during the summer and enjoyed a winning renewal of acquaintances with their former team-mates. For our part, we also had a brief encounter with Tommi Taimi, who played for Kunlun towards the end of the last season before swapping Beijing for Bratislava.

Our home stand continues on Friday with the visit of Vityaz and a bid to sign off from this sojourn in Shanghai with a second successive win.

Official game sheet