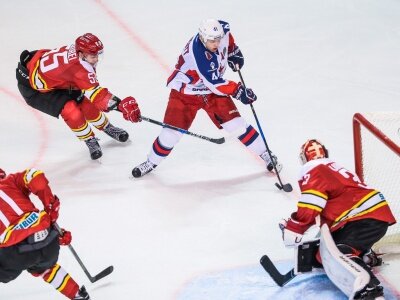 Last-second heartbreak after Kunlun's brave fight
Source: Club Press-Office
12.09.2017

Kunlun Red Star 3 CSKA Moscow 4 OT

Monday's third period produced a stirring fightback – and even if it fell just short of snatching victory, Kunlun's performance in this test against an in-form CSKA team highlighted the potential in Mike Keenan's roster this season.

A hugely impressive third-period showing began with Gilbert Brule scoring his first goal since joining the club from Traktor, and culminated with Alexei Ponikarovsky tying the scores at 3-3 in the 59th minute, forcing the game into an unlikely round of overtime. For 20 minutes, Red Star's dominance was almost complete: 20 shots against five, more than three times as much attacking possession. And, most importantly, three unanswered goals to halt the Army Men's advance.

The quality of hockey was all the more impressive given the context. CSKA arrived on the back of seven straight wins, and demonstrated just why in the opening 40 minutes. In truth, we found ourselves behind the eight ball almost from the start as the visitor took control of proceedings in the early exchanges. First-period goals from Andrei Kuzmenko and Greg Scott set the tone; Kirill Kaprizov added a third in the middle session. Penalty trouble frustrated our response and, at the second intermission, even those who recalled Kunlun's recent recovery at Traktor did so in hope more than expectation.

But hope is a powerful thing. Given nourishment, it can achieve much. And Brule offered the first concrete signs of success with a power play goal in the 42nd minute. Ponikarovsky's pass across the face of Lars Johansson's net took a slight deflection on its way to Brule, alone at the far post. With an open target, he made no mistake to score his first for Kunlun.

All at once, CSKA no longer seemed unbeatable. Brandon Yip made it a one-goal game midway through the final stanza, forcing home a delicious backhand feed from Cory Kane behind the visitor's net. At once, hope became belief, and CSKA looked vulnerable.

The tying goal came late. Keenan called Tomi Karhunen to the bench on 58:16 and the gamble paid off inside 10 seconds. Red Star swarmed forward, Geoff Kinrade fired in a shot from the point and amid a scramble on the slot, Ponikarovsky forced the puck home to make it 3-3.

From the depths of 0-3, Kunlun had salvaged a point. Now it had a chance to snap CSKA's winning streak and claim a notable scalp. Overtime, and with the momentum behind the team, a home win had moved from the longest of odds to being – arguably – the favorite at the bookie's.

Alas, it was not to be. CSKA's Sergei Shumakov got his first goal since moving from Sibir to Moscow, stealing the puck on the blue line and going through to beat Karhunen with just one second left to play in the extras. That left our team with very mixed emotions: acute disappointment at getting so close and failing to finish the job, but justified satisfaction at a brave comeback to match a powerful opponent.

The next game is on Wednesday, when Slovan Bratislava comes to Shanghai looking to move away from the foot of the Western Conference.

Game sheet