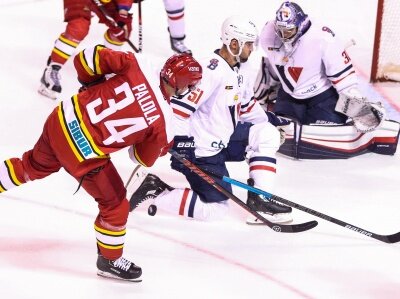 The Finnish connection
Source: Club Press-Office
18.09.2018

Kunlun Red Sar 4 Slovan Bratislava 3 SO

A thrilling game against Slovan brought the best out of our guys. Resilience, determination, a never-say-die attitude … and ultimately a first home victory of the season thanks to Brandon Yip's shoot-out winner. After Sunday's disappointment against Dinamo Riga, this was the perfect response – a morale-boosting win barely 24 hours later.

Much of the credit goes to our Finnish contingent. Apart from head coach Jussi Tapola, celebrating his first home win behind our bench, this was also a big game for our Nordic skaters. Veli-Matti Savinainen got his first goal for the club, Olli Palola had a hand in all three goals and scored the all-important equalizer himself. Ville Lajunen weighed in with a goal and an assist from the blue line. With off-ice connections between Shanghai and Suomi dating back to the club's first season, it was perhaps fitting that our first home win of the current campaign had such a strong Finnish accent to it.

Not that it was ever easy. Slovan came here having never previously scored a goal in China, but experienced Czech forward Michal Repik quickly tore up that unhappy stat. He grabbed a hat-trick, twice assisted by the familiar talents of Chad Rau, as Slovan led 2-0 and 3-1. But nobody could accuse Red Star of lacking heart. Savinainen got a goal back late in the second period – a second period which the home team had dominated without getting its just rewards – when he pounced on the rebound after Lajunen's point shot was saved. Then, after the blow of Repik completing his treble during a 5-on-3 power play, Lajunen responded with a power play goal of his own. Given time and space to line up a shot from the center point, the former Jokerit and Spartak D-man picked his spot to beat Jakub Stepanek and collect his second goal of the season.

Lajunen's willingness to shoot had brought rewards twice, but the tying goal was all about quick reactions. First, Alexander Lazushin showed great presence of mind to shrug off an on-rushing forward and get the puck to Marc-Andre Gragnani. Next, after Gragnani's pass could not quite release Patrik Lundh, Palola pounced on the puck after it bounced off Ivan Svarny. Then, without hesitation, the Finnish forward caught Stepanek napping with a wrist shot that the Czech goalie could only push into his own net. With six minutes left the game was level and Red Star went on to enjoy the better of the overtime period without forcing a winner in three-on-three play. So, it went to a shoot-out, and four saves from Lazushin – including attempts from our old friend Rau and the in-form Repik – were followed by Yip's decisive attempt. A narrow victory, but a deserved one: the stats show which team was bringing the offense for much of this game.

So, a first home win goes in the books. Next up, it's a chance to grab a second on Wednesday. CSKA Moscow, last season's beaten Gagarin Cup finalist is the visitor. The Army Men are always a tough opponent, but after a gruelling overtime win in Vladivostok, can they summon up the same energy levels after moving on to China?