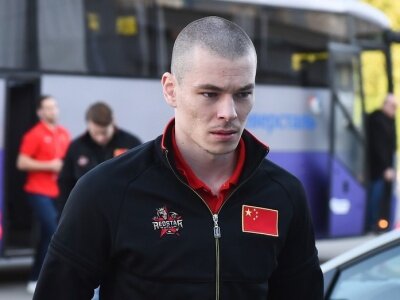 Wolski and Daloga delight our Sino-Suomi fanclub
Source: Club Press-Office
26.09.2017

Dinamo Riga 1 Kunlun Red Star 2

The end of our latest road trip brought a much-needed boost with victory at Dinamo Riga. Bolstered by the return of head coach Mike Keenan after his one-game ban, the team responded with a professional performance that banished some of the frustrations of the past week and lifted the mood ahead of our return to China for Saturday's game against Avtomobilist.

It was also a chance to catch up with a new chapter of the global Kunlun fan community: a group of enthusiastic followers made the short trip across the Baltic, bearing Chinese and Finnish flags, to cheer on our team in the Latvian capital. After uncovering a fan club in the Urals last season, the boundaries of this Chinese hockey flagship are extending ever further.

On the ice, it wasn't always a classic. If Red Star's fans were worried by three games without victory, Dinamo's were in despair over a run of 10 consecutive losses. Confidence wasn't high, and there were few chances at either end of the ice.

However, as we've learned to our cost in the past, hockey can be a cruel game … and never more so than when a team is struggling. Kunlun's opening goal stemmed from the kind of incident that always seems to blight a team bereft of form. Mikelis Redlihs – a veteran Dinamo player with a wealth of KHL and international experience – will still be wondering how he managed to skate away from the puck on his own blue line, presenting our own Wojtek Wolski with a golden opportunity to open the scoring in the ninth minute. Wolski, of course, despatched that chance without mercy.

The goal settled some nerves, and Red Star did a fine job of limiting Dinamo's scoring chances. The stats tell their own story: five shots allowed in the first period, eight in the second. Our own offense may have lacked a little fluency as well, but with a lead to protect the emphasis was on keeping the puck away from our net. Over the course of the game, the guys blocked 20 Dinamo shots – a number that speaks much about the commitment shown all over the ice.

It wasn't all dour defense. Marek Daloga added a second goal in the 46th minute, exchanging passes with Wolski before letting rip from the blue line. Justin Peters, in the home net, was left clutching at thin air as that shot flew past him. Dinamo, in desperation, called Peters to the bench as early as the 55th minute. The gamble paid off: Nikita Jevspalovs got a goal back to set up a tense finish. But, despite more pressure on Magnus Hellberg's net, Red Star held on to snap its losing run.

After a long trip to the Baltic, it's back to Shanghai and a meeting with Avtomobilist on Saturday. The visitor from the Urals has been one of the surprise packages in the Eastern Conference so far; the game promises to be a good indication of where we stand after six weeks of the season.

Official game sheet