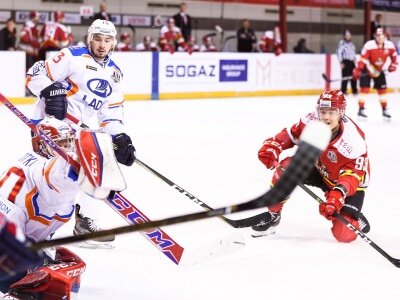 Zach's strike shoots down Lada
Source: Club Press-Office
05.10.2017

Kunlun Red Star 2 Lada Togliatti 1

Zach Yuen was one of the most popular players of Red Star's debut season. Vancouver born, but proud of his Chinese roots, he became a true 'local hero' for Kunlun fans; the most noticeable Chinese connection on our roster as the great Chinese hockey adventure got underway.

In season two, things are already a bit different. A major plank of our summer recruitment campaign was to increase the team's Chinese contingent. Successful scouting among the diaspora communities of North America changed the shape of our roster, combining quality hockey players with a stronger local identity. Throughout that process, Zach remained part of our plans, one of only a handful of players who returned to the team for a second season.

Today, Zach was back on the score sheet, conjuring up our game-winner at home to Lada. The goal came in the 32nd minute, a nifty one-timer from the slot after Pavel Vorobei's pass from behind the net deceived the visiting defense and left goalie Anton Krasotkin stranded. That was enough to seal a 2-1 victory over one of the Eastern Conference's struggling teams, but the game was by no means the formality that the league standings might suggest.

The first period was hard work for Red Star, the team perhaps affected by the confusion that saw Monday's game against Traktor called off and today's game – briefly – due to be relocated to our opponent's ice in Togliatti. Whatever the reasons, Lada made a strong start and once it earned a 5-on-3 power play 15 minutes into the action, the visitor took advantage. Charles Genoway got the goal, leaping high to swat down the puck on the blue line before striding into the deep slot to fire past Magnus Hellberg.

Kunlun still had 50 seconds of penalty to kill, and responded with a time-out. That 30-second pause did more than merely calm the situation; it also delivered the inspiration to engineer a short-handed goal and tie the game on the 17-minute mark. Cory Kane, part of our new contingent, did superbly to evade the attentions of two defensemen (attentions that looked to include a hook and an attempted trip as Kane headed for the net) before flipping a backhand short over Krasotkin's stick.

After escaping the first period with a tied scoreline, Red Star raised its game after the intermission. The dominance displayed by Lada early on was more than repaid; Yuen's goal was the least our team deserved for its efforts. Into the third, and with a lead to defend, it was time to slow the game and make it hard for Lada. The task was admirably fulfilled; out of 17 face-offs, our opponent won just one – a small but significant stat when trying to secure a tight verdict.

The victory moves us up to 30 points for the season, and keeps Red Star battling at the top of the Chernyshev Division alongside Avangard and Barys. Next up, it's the visit of Metallurg Magnitogorsk on Friday, and a chance for Mike Keenan and Wojtek Wolski to face-off against their former club.

Official game sheet