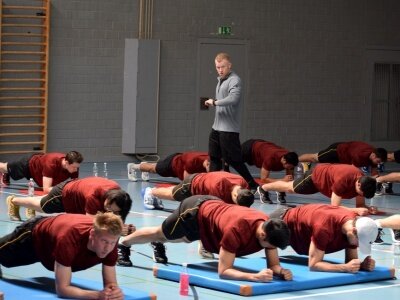 Quest for the Gagarin Cup begins in the heat of Herisau
Source: Club Press-office
08.07.2017

Late on Friday our team waved goodbye to Moscow and flew to Switzerland for our first preseason training camp. The destination was the little town of Herisau, resting in the Swiss countryside, a short distance from Zurich. Kunlun Red Star is not the first KHL club to choose this location for a camp, as Herisau recently served as training headquarters for CSKA, so we knew in advance there would be no problems with the local infrastructure.

And so on Saturday we had our first full day's training. It began early in the gym, under the watchful gaze of fitness coach Matias Sarvela, and continued with an afternoon session on the ice in the formidable company of Mike Keenan, Bobby Carpenter, Igor Kravchuk and Jaakko Valkama.

Pretty much the entire team is now here. Roman Lyuduchin joined the gang in time for the flight out of Moscow (the forward, being of Chinese heritage, must surely feel he is where he belongs), while awaiting us in Switzerland were Wojtek Wolski, Jesse Blacker, Geoff Kinrade and Joonas Jarvinen. The gathering will be complete with the arrival of Belarusian international Andrei Kostitsyn, who was granted a few extra rest days to recuperate from his exertions on national team duty at the World Championships.

We must also mention the elements. The weather in Herisau has been unusually hot, with the mercury often soaring above the 30C mark (that is 86F for us anglophones), so proximity to the ice provides a welcome opportunity to cool down. As for the real business on the rink, the players have been training with real intensity, and any drop in Swiss temperature will be strictly confined to off-ice areas. The long and – we hope – thrilling quest for Gagarin Cup glory is at last underway. Things are hotting up, and the preseason is gathering pace!