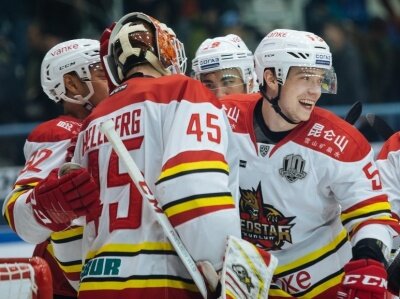 Back on track
Source: Club Press-Office
17.10.2017

Sibir Novosibirsk 0 Kunlun Red Star 3

After a bunch of games where things did not quite go right, Red Star got back on form in some style at Sibir.

Like much of our best hockey of the season, the good things started at the back. Magnus Hellberg collected his fourth shut-out of the season; more impressive still, Sibir was limited to 17 shots on target across the 60 minutes. This was the kind of solid, disciplined performance long associated with Mike Keenan's teams. The kind of hockey that has brought unparalleled success on both sides of the Atlantic is beginning to take root in China as well.

But this wasn't just about the defense. Going forward, Kunlun was a potent force. A few numbers: 75 attempts, 33 on target, 20 instances where Sibir had to block our shots. And, most important of all, three goals. From start to finish, this was a display of offensive intent; with each passing period our guys did better at converting possession and territory into dangerous moments around Alexander Salak's net.

It took patience. For two periods, the game was deadlocked. Then a power play chance early in the third changed everything. The link-up between Gilbert Brule, Andrei Kostitsyn and Wojtek Wolski has been developing nicely with every shift, and all three were involved here to open the scoring. Brule had the shot, Kostitsyn smartly redirected the puck towards goal, Salak had to push it away to his left, and Wolski collected the puck, slung it back into the danger zone and watched fortune favor the brave as it ricocheted through the pads and found the net. The Kunlun power play has not always been as potent as we'd like: this time, it took just 13 seconds to hit the target.

Next came Geoff Kinrade, with a fine goal. Down the right, exchanging passes with Alexei Ponikarovsky in the corner and spot the weak spot in the home defense. Charge into that gap, and let fly with a wrist shot from the face-off spot to leave Salak clutching at thin air. Suddenly, it's not that tight of a game anymore.

And, for the finale, how about another power play goal? While we're at it, how about Nikita Khlystov's first for the club? The 24-year-old D-man opened his account off Andrei Kostitsyn's feed, firing home at the second attempt after Ivan Vereshchagin blocked his first shot. Don't, though, assume that it was as simple as all that. Once the puck bounced back to our man, there was still plenty of work to do to fire it through traffic as Salak looked to recover his position.

The latest road trip ends Wednesday in Chelyabinsk. Then it's time to prepare for a 10-game home stand. Considering how few games we've enjoyed on our own ice, a seventh-place spot in the Eastern Conference is more than creditable. Soon we'll get a great chance to tighten our grip on a playoff berth and move up the table to get among the big beasts of the East.

Official game sheet