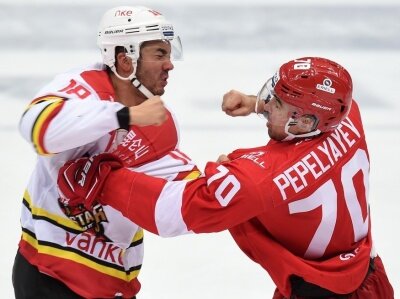 A tough day in Moscow
Source: Club Press-Office
24.09.2017

Spartak Moscow 6 Kunlun Red Star 2

After the controversial conclusion to our game at Severstal, the consequences continued. Head coach Mike Keenan was handed a one-game ban after taking to the ice to remonstrate with the officials in Cherepovets; in his absence, Bobby Carpenter and Igor Kravchuk took responsibility for the team.

It added up to a disrupted build-up to our game in Moscow, a situation not helped by Spartak's wish to move the game forward so as not to clash with the Spartak soccer game in town later in the day. In total, we had barely 40 hours to travel from Cherepovets to Moscow and prepare for the game without Keenan – in Kravchuk's words, without the conductor of our orchestra.

Against that backdrop, perhaps it wasn't surprising that the start did not go according to plan. Spartak's Ryan Stoa opened the scoring after just 31 seconds, and from that point on it was always going to be an uphill struggle. Despite the unpromising circumstances, Red Star played with great commitment. Arguably our guys even shaded the attacking play in that first period, but Maxim Trunyov made it 2-0 for the host in the 19th minute.

Sometimes, those are the fine margins that transform games. Had Kunlun taken one of its chances and gone in level at the first intermission – even had Spartak taken a 1-0 advantage into the break – we may have been talking about a very different afternoon of hockey. Instead, with a two-goal deficit, it was an understandably deflated team that headed back to the locker room.

The middle session was still competitive as the two teams traded power play goals. Lukas Radil extended the home lead but Brandon DeFazio got us on the scoreboard in the 29th minute, firing home from the inner arc of the face-off circle to claim his third goal in two games. Our Canadian forward moves on to six for the season.

Sadly, what hopes remained were unceremoniously extinguished in the third period as everything went wrong in the 54th minute. Trunyov got his second of the day, Kyle Chipchura took a penalty, and Radil got his second of the game seconds later. Chipchura was quick to atone, harrying home goalie Markus Svensson behind the net to start a play that ended with him standing big in the slot to set up Cory Kane for Red Star's second.

Even so, the visitor was to be denied the final word. Spartak was reduced to three skaters, Magnus Hellberg headed to the bench as Kunlun tried to force the issue with a passage of six-on-three play, but the home team held on. Once the penalties were safely killed, Trunyov then added insult to injury with an empty-net goal to complete his hat-trick. A day to forget in Moscow, but Monday brings an immediate chance to recover in Riga.

Official game sheet