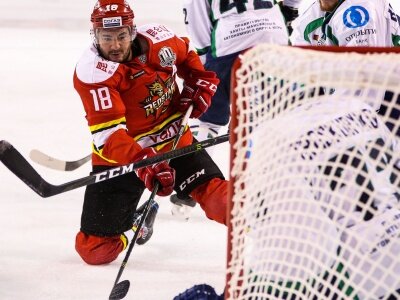 A grandstand finish
Source: Club Press-Office
06.01.2018

Kunlun Red Star 2 Ugra Khanty-Mansiysk 1 OT

Red Star's problems with scoring this season are all-too well-known. But Friday's game against Ugra delivered a sudden release from that problem – and just in the nick of time.

For much of the clash, neither team was creating much danger around the opposite net. The first two periods were scoreless and it wasn't until the 52nd minute that Ugra broke the deadlock through Pavel Varfolomeyev.

But the closing stages turned everything upside down. It all started for us in the last minute. Six skaters on the ice, Magnus Hellberg looking on from the bench. Andrei Kostitsyn's shot was turned away, Taylor Beck picked up the puck behind the net and found Brandon Yip out in front to shoot home the tying goal. With 36 seconds left to play, Red Star had saved the game.

Then it got even better. Overtime lasted just 17 seconds before Rinat Ibragimov potted the winner. This was a great example of how to play three-on-three hockey: Beck combined with Gilbert Brule out wide to create a shooting chance for Ibragimov; the defenseman swept into position and dispatched the opportunity with aplomb to win the game. For Ibragimov, up against one of his former clubs, it was the first goal since the 2015-16 season; for Kunlun, it was a third victory in overtime the 18th altogether.

Head coach Bobby Carpenter was a happy man after the game. "This was a really important win for us," he said. "Our team has some obvious problem on offense and we don't score enough. But our team works hard, it battles. We're not giving up, but we need to make the most of every opportunity to score. Like I said, this was an important victory for us."

The league table has Red Star in 11th place in the East, well clear of Admiral but some way adrift of Barys. The prospect of reaching the playoffs is mathematically possible but remains more theoretical than plausible. But, as our guys showed in today's game, the team will battle until the very end.

Next, Kunlun entertains Sibir on Monday before heading west to face SKA on Jan. 9.

Official game sheet