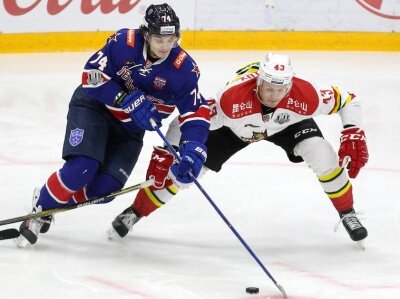 Facing the best
Source: Club Press-Office
10.01.2018

SKA St. Petersburg 4 Kunlun Red Star 2

A daunting trip to St. Petersburg saw Red Star take on the defending champion and league leader, SKA. The opposition's firepower is well-known, it's collection of title-winners from the domestic and international scene imposing. Under the guidance of head coach Oleg Znarok, it's become a foundation of Russia's national team and is sure to be heavily represented at next month's Winter Olympics in Korea.

As if the status of our opponent was not intimidating enough, there was also the small matter of the 8-1 defeat SKA handed Red Star earlier in the season back in Shanghai. By any reckoning, this game was destined to be the toughest of tests against the most powerful of opposition.

But, of course, top-level sport is all about trying your skills against the best in the business. For those of our players with Olympic aspirations of their own, what better stage to jog the memories of their countries' selectors before those final rosters are unveiled in the next few weeks?

Taylor Beck, who has been involved in recent Canadian teams was certainly eager to make his point. Less than three minutes into the game, he grabbed the opening goal. Racing onto Brandon DeFazio's pass out of defense, he found the ice wide open in front of him and surprised Igor Shestyorkin with a shot from the face-off spot that clipped the goalie's shoulder on its way inside the top corner. For most of the 12,000 fans in the Petersburg arena, it was a shock.

The home team did not recover immediately. Sergei Plotnikov equalized and Nikita Gusev added a second, but Red Star was not about to roll over. The teams were trading shots, and Cory Kane conjured a Kunlun leveller in the 13th minute. It was a breakaway goal, fired past Shestyorkin's blocker as Znarok fumed behind the bench.

In the middle frame, it's true, SKA raised its game and piled some punitive pressure on Magnus Hellberg's net. Hellberg, a hopeful for Sweden, stood up well in the face of the barrage until he was finally beaten late in the period by Nikolai Prokhorkin. The one-goal lead lasted until the closing minutes, when Plotnikov got his second of the game to finally end Red Star's resistance. So it ended in defeat, but by no means in disgrace: Kunlun offered a worthy battle to probably the strongest team in the league and can take credit from the performance.

With the All-Star Game looming, the next action for our guys is on Thursday at Jokerit. Then there's a short break for the big show, followed by a trip to Dynamo Moscow on Jan. 16.

Official game sheet