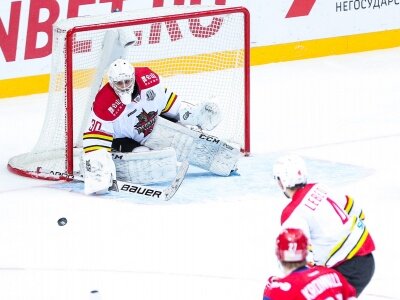 Skrynnik impresses at former club
Source: Club Press-Office
21.01.2018

Lokomotiv Yaroslavl 2 Kunlun Red Star 0

Alexander Skrynnik, our understudy goalie, hasn't seen all that much action this season. With Magnus Hellberg in such impressive form, the ex-SKA man has only started one KHL game so far. But today, on his return to another former club in Yaroslavl, the 26-year-old got his chance to shine.

And, despite the scoreline, he took it. Don't be fooled by the result – this was a fine goaltending display. Skrynnik made 43 saves to keep Red Star in contention until the very last. It wasn't until Yegor Averin's close-range finish in the 58th minute that Lokomotiv opened a 2-0 lead and enjoyed a measure of comfort in the game. Skrynnik was at his best early on, denying Artyom Ilyenko after he deflected a dangerous shot from Danil Yurtaikin goalwards. There was more to come: a solid stop following a Staffan Kronwall thunderbolt, a double save from Yegor Korshkov in the second period and a brave effort to close down Averin's solo break shortly before the second goal. It was the kind of performance that suggested Skrynnik may have more to offer than his more accustomed role between the piping at Heilongjiang, our feeder team in the VHL.

Meanwhile, after weathering a second-period storm, Red Star began to pose some threat on offense in the final frame. Cory Kane was close to beating Alexander Sudnitsin when he got his stick to a shot flying in from the blue line, and Gilbert Brule tested the home goalie in the 53rd minute as Red Star came close to cancelling out Jakub Nakladal's first-period opener for Lokomotiv.

In the event, Sudnitsin had enough to hold our attack at bay, making 33 saves to blank our forwards and denying us on no fewer than 18 occasions in the final stanza. In the end, that proved the difference between the teams – a fine margin, considering the strength of Lokomotiv's roster and the home team's need to maintain its form for the upcoming playoffs.

Although next week sees much of the KHL slowing down ahead of the Winter Olympics, Red Star has a busy schedule of four games. Monday sees a visit to Metallurg Magnitogorsk, then it's back home for a double-header against playoff-chasing Amur and a clash with Barys.

Official game sheet