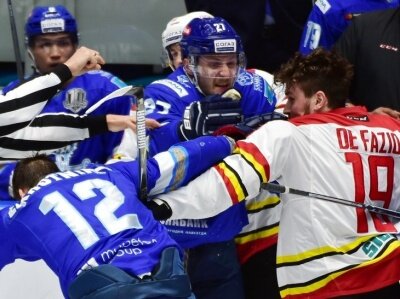 Brule & Co impress, but Barys snatches the win
Source: Club Press-Office
15.10.2017

Barys Astana 4 Kunlun Red Star 3 OT

Another narrow loss on the road was enlivened by the burgeoning understanding between our top line of forwards. Gilbert Brule, Andrei Kostitsyn and Wojtek Wolski produced a fine performance as an attacking unit in this game, only to lose out to an overtime goal.

Brule, the most recent acquisition of the three, stood out. He got two of Red Star's three goals and assisted on the other one. Kostitsyn scored our tying goal, completing a recovery from 0-2, while Wolski had a hand in all three strikes as the team secured another point on the road.

After a rough first period saw Barys go 2-0 up through Yegor Shalapov and Linden Vey, Red Star drew some inspiration from a fight late in the opening stanza. Although Brandon DeFazio was identified as the instigator after dropping the gloves with Artyom Likhotnikov, the skirmish seemed to galvanize our guys. In the second period, we saw much more of what this team could do.

It started with Brule in the 27th minute, collecting Wolski's pass and wiring in a wrister from the top of the circle. Within 90 seconds, the scores were level. Brule went scything through the home defense, Wolski's shot from close range was saved but Kostitsyn was on hand to tuck away the rebound.

The shape of the game was profoundly different, and it was the home team that was feeling the strain. The Barys PK got into difficulties behind its own net, Wolski fired in a shot that Henrik Karlsson could only glove into no-man's-land, and Wolski responded smartly to slip the puck to the wide-open Brule for the go-ahead goal. Suddenly, with less than 12 minutes left, the way was clear and an end to our three-game losing run was in sight.

Sadly, while Brule & Co had got into a profitable rhythm of scoring goals, DeFazio was destined to repeat his earlier contribution as well. If his first-period scrimmage gave the team a shot of adrenaline, his ejection from the game in the 52nd minute proved far more costly. DeFazio incurred the wrath of the officials for slashing at Vey as Red Star sought to kill a penalty; his angry reaction to the call did little to help his cause and suddenly his personal PIM tally was up to 42.

Facing a short spell of 3-on-5 play, followed by the rest of Brandon's five-minute major, Red Star defended bravely but ended up undone by Roman Savchenko's game-tying goal in the 57th minute. That dragged the game into overtime, where Matthew Frattin got the decisive goal for the home team.

Official game sheet