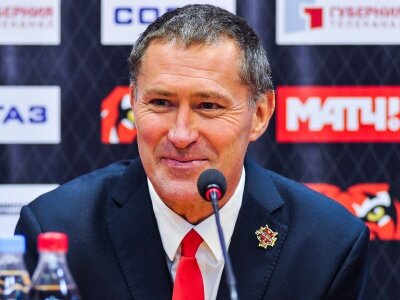 A change of fortune
Source: Club Press-Office
04.12.2017

Amur Khabarovsk 3 Kunlun Red Star 4 OT

Gameday began with big news: head coach Mike Keenan had left his post, replaced with immediate effect by Bobby Carpenter. Carpenter, a veteran of more than 1150 NHL appearances and twice part of the Devils' Stanley Cup-winning coaching staff, took over as interim head coach for the trip to Amur – and began with a victory.

It was a hard-fought win. After leading 3-0, Red Star almost allowed the opposition back into the game. But Taylor Beck picked the perfect time to score his first goal for the club, snaffling an overtime winner. Amur was desperately trying to kill a penalty in the extras – and time was running out for Kunlun – when Jesse Blacker launched a slap shot from the blue line. The effort was blocked, but the puck ran straight to Beck and he pounced on the chance to fire off a shot that gave Juha Metsola no chance. After nine straight defeats, Red Star was back on the winning trail.

That trail seemed rather smoother in the early stages of this game. Kunlun jumped to a 3-0 lead inside 24 minutes, despite absorbing some serious pressure from the home team. Brandon DeFazio opened the scoring in the fifth minute, tucking it away on the doorstep after Brandon Yip's feed from behind the net. Then came the storm: Amur took control of the first period, forcing 21 saves from Magnus Hellberg but failing to find the net.

For once, we were in a position to deliver the sucker punch, and Pavel Vorobei obliged when he emerged from the penalty box to collect Gilbert Brule's pass and beat Metsola to make it 2-0.

Brule himself added the third, albeit with a slice of luck going his way. A lightning break out from our zone saw Jan Kolar turn Brule's attempted pass to Alexei Ponikarovsky into his own net. After so many weeks of seeing the bounces go against Red Star, at last some of the breaks were going our way.

But Amur kept pressing. The home team never stopped playing on the front foot, and Alexei Byvaltsev handed out a lifeline with a goal late in the middle frame. Then Red Star was punished with two power play goals in the third; Byvaltsev again, followed by Alexander Gorshkov three minutes from the end. Overtime beckoned, and Red Star faced another test of its mental strength before Beck banished that losing streak.

Amur will be our next opponent – we meet again here in Khabarovsk on Tuesday, looking to consolidate on today's success. And the Tigers' season shows that Red Star's playoff hopes are by no means over, despite a long run of difficulties. Amur also suffered a nine-game losing run and seemed destined to bump along the bottom of the league as September came to an end.

Since then, though, our neighbor in the Far East has produced some impressive form to win 14 out of 22 games and emerge as a contender for a top eight spot. Grabbing a win, injecting renewed confidence, and taking that forward, can transform a season; matching last year's run to post-season is by no means impossible.

Official game sheet