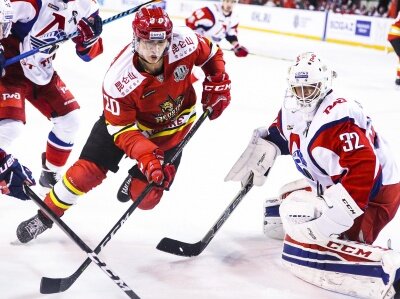 Rolled by the rookies
Source: Club Press-Office
25.11.2017

Kunlun Red Star 1 Lokomotiv Yaroslavl 4

Goals change games. It's one of the oldest truisms in the book, yet once again it proved itself in Friday's meeting with Lokomotiv. The visitor, which handed only a second ever KHL start to rookie goalie Ilya Konovalov, had the teenager to thank for a brilliant early save to deny Brandon DeFazio. Had the youngster failed to reach that one …

That wasn't the end of Red Star's promising start. Two power plays in the early stages of the game had the momentum firmly behind us, but the puck just wouldn't go in the net.

Then it all changed. Jaakko Rissanen took a double minor for cross checking and high sticking, and Lokomotiv converted its power play chance through Jakub Nakladal. Suddenly, despite all the promise and effort of the opening exchanges, Red Star was behind at the first intermission.

A response was not long in coming. Another power play early in the second finally paid off. Wojtek Wolski's rush was halted by a poke check as he got a look at the net, but the defenseman's stick merely diverted the puck to Alexei Ponikarovsky. His shot went through the five-hole and the scores were level.

Unfortunately, having solved the riddle of the rookie goalie, Kunlun was scuppered when two skaters popped up at the other end to post 'firsts'. Rookie forward Yegor Fateyev, making only his second appearance of the season, took the chance to claim his first career marker at this level, reinstating Loko's lead barely a minute after Poni's tying goal.

Then experienced D-man Alexander Kutuzov potted his first goal for Lokomotiv after following head coach Dmitry Kvartalnov from CSKA. The 32-year-old converted another power play chance midway through the game and, subsequently, Lokomotiv got on top to create several more good opportunities in the latter half of the second period. Goals changing games, once again: Kunlun's fragile confidence took another blow, and it was hard for the team to recover and reproduce the kind of hockey it had shown in the early stages.

The second intermission returned some equilibrium to our guys, and the final stanza saw more pressure on Konovalov's net. Wolski and Brandon Yip were both prominent on offense, without finding a way to put the team back in contention. But chasing a game is different from trying to establish an advantage.

Lokomotiv could focus on maintaining its lead, shutting down the game without needing to commit to much attacking play. And, when the final gamble was made – two-and-a-half minutes before the hooter – it backfired within a few seconds as Andrei Loktionov shot into the net recently vacated by Magnus Hellberg to put the outcome beyond doubt.

And so the long home stand came to a frustrating end. Next up, we head way out west to visit Slovan on Monday at the start of a six-game road trip that takes in Moscow and Podolsk before heading East for three games with Amur and Admiral.

Official game sheet