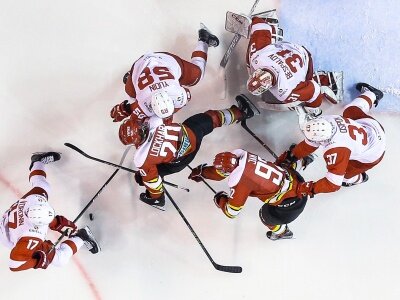 Spartak crashes the Christmas party
Source: Club Press-Office
25.12.2017

Kunlun Red Star 1 Spartak Moscow 3

There was little Christmas cheer for Red Star, despite the visit of guests dressed in Red-and-White. Unfortunately for our team, it was Spartak that left in a jolly mood after collecting more gifts than it offered in Shanghai.

The course of the game was determined late in the first period when the Muscovites scored two quick goals. Artyom Voronin was the architect, providing killer assists for those opening tallies. First, he showed great vision to pick out the unmarked Anatoly Nikontsev, swinging a pass from one face-off spot to the other before he team-mate shot home. Then Dmitry Yudin doubled the lead, collecting Voronin's pass and putting a wrister over Magnus Hellberg's shoulder.

At that point, it would have been easy for Red Star to throw in the towel. Indifferent form, fragile confidence, and another game that presented a mountain to climb formed a trifecta that would test the dedication of most teams. But the guys kept battling, despite finding it tough against a well-drilled Spartak defense, and almost staged an unlikely revival in the third period.

It started with Hellberg. The Swede came up big when he faced a penalty shot from Vyacheslav Leshchenko, forcing the Spartak man to shoot wide of the target and denying the visitor a decisive third goal. Next, Jaakko Rissanen went to the other end and scored his second goal in successive games, shooting home from the deep slot after Lucas Lessio's drop pass created space for him to attack.

Suddenly, it was a one-goal game and time remained to force an equalizer. Leshchenko took a penalty, Red Star surged forward in search of the tying goal but could not find a way past Nikita Bespalov. With 95 seconds left on the clock, Hellberg headed to the bench as Kunlun prepared one final storm on Spartak's net. This time, though, the gamble did not pay off. Alexander Khokhlyachyov scored into the empty net, and Spartak sealed the verdict.

The win keeps the visitor in the playoff places in the Western Conference, while Red Star must continue to battle to sustain its mathematical hopes of making post-season. The next game comes on December 29, away to Admiral, before we start the New Year with a three-game home stand against Avangard, Ugra and Sibir.

Official game sheet