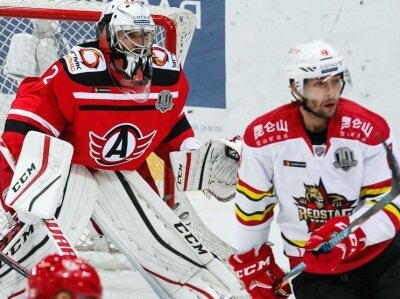 Wolski makes triumphant return in Red Star win
Source: Club Press-Office
02.09.2017

Avtomobilist Yekaterinburg 1 Kunlun Red Star 2

It was a big day for Wojtek Wolski as Kunlun recorded its second successive victory. The 31-year-old forward made his first appearance in the KHL since suffering a horrific injury on October 13, 2016, while playing for Metallurg Magnitogorsk against Barys. Since then, he's made a full recovery and was one of the first players to join Mike Keenan here at Kunlun, reuniting with his former head coach at Magnitka.

For Wolski, though, simply getting back on the ice wasn't enough. To make the day truly memorable, he also claimed the game-winning goal as our team battled to record back-to-back victories for the first time this season.

The big moment came late in the second period. Cory Kane fought his way out from behind the net and attempted a back-hand shot that found its way to Wolski at the far post. With Avtomobilist's defense in disarray, the Polish-born forward converted the chance for his first competitive goal since Sep. 23 last year.
His marker made it 2-0 after Brandon Yip's tally midway through the game put Kunlun in front. Yip, back in action after a two-game ban, got his second goal of the season when he raced onto Alexei Ponikarovsky's pass, advanced to the top of the circle and picked out a wrist shot that flashed past Jakub Kovar on the stick side.

Red Star was good value for its lead after two stanzas. Coming to a team that was setting up for its first home game of the season, Kunlun produced a compact game of hockey that kept chances to a minimum. The host's much-vaunted first line of double Stanley Cup-winner Dwight King, Gagarin Cup-winner Francis Pare and AHL All-Star Taylor Beck was the main threat – those three combined for 11 of Avto's 29 shots on Magnus Hellberg – but could not find a way past the Swede. For much of the rest of the game, Avtomobilist was frustrated, largely kept to the outside and only rarely causing serious concern around Hellberg's net.

By the time the home team got itself onto the scoreboard, it was already too late. Alexei Vasilevsky ended Hellberg's hopes of a shut-out as Avtomobilist sacrificed Kovar for an extra skater, but with just eight seconds remaining on the clock, Kunlun had already done enough to close out the game. A skirmish as the hooter sounded highlighted home frustrations as Vasilevsky and Nikita Tyramkin picked up penalties for roughing alongside our own Kyle Chipchura.

More importantly, though, our team secured another good victory on the road and continues to make positive strides through a tough start to the season. Winning more than we lose, especially on the road, bodes well for a successful season – all the more so, considering the haste with which this year's roster was assembled. It's still very early days, but there are bright signs at both ends of the ice as Red Star readies for its home opener on September 9. Before that, though, there are still two more engagements to wrap up this extended tour. We visit Traktor Chelyabinsk, home of the team's Russian fan club, on Sunday then go to Lada on Tuesday.