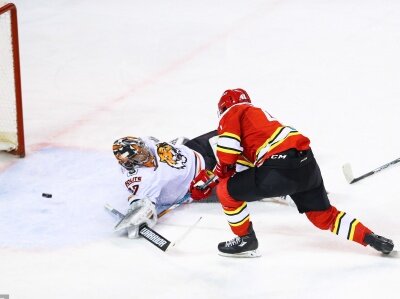 Beck bags a beauty as Red Star returns to Shanghai
Source: Club Press-Office
26.01.2018

Kunlun Red Star 1 Amur Khabarovsk 3

Red Star came home to China after its latest long road trip – and celebrated with one of the goals of the season in Thursday's game against Amur.

Taylor Beck got the Shanghai crowd on its feet in the eighth minute with a fantastic display of skills. Bursting into the Amur zone following a feed from Sergei Peretyagin, his feint to the right wrong-footed Ushenin before an extravagant dangle left Yaroslav Khabarov in a tangle. Outfoxing Juha Metsola, Beck put the Finnish goalie on his back before slotting the puck into the net to tie the scores. It was, as the saying goes, worth the ticket money on its own.

Unfortunately for Red Star, it was also the sole highlight of another tough evening. Amur came into the game desperately needing a win to reignite its playoff prospects. In the end, that greater need translated into greater urgency and led the visitor to all three points. Bogdan Potekhin's early goal was cancelled out by Beck's beauty, but subsequent power play markers from Alexei Byvaltsev took the game away from our team.

It wasn't for the want of effort. Throughout the game, Red Star enjoyed more time on the attack and our team edged the shot count. But both Metsola, recently called into Finland's Olympic roster, and later Evgeny Alikin, a 23-year-old prospect learning his trade in the KHL, proved up to the challenge as the visitor held on for the victory.

As the season moves towards its end, it's time to start looking to the future. Amid the disappointments of the current campaign, there are some bright spots. And, perhaps, more importantly, these final games of the season are giving opportunities for players from our KRS Heilongjiang farm club a chance to get a feel for life in the big league. Today saw another run-out for Greg Squires, whose performances in the VHL showed plenty of promise and earned him a string of outings in the senior team. It's all part of ensuring that, in the absence of a playoff campaign, the closing stages of the current campaign offer more than a few de facto exhibition games.

On Saturday, Red Star rejoins battle with Amur, then on Sunday we play the final game before the Olympic break when Barys Astana comes to town.

Official game sheet