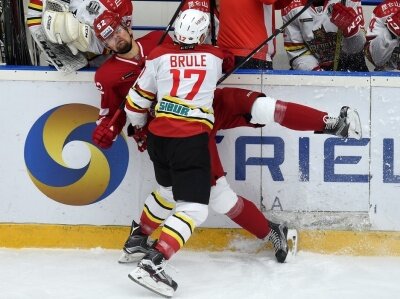 Power play goal makes the difference
Source: Club Press-Office
02.12.2017

Vityaz Moscow Region 2 Kunlun Red Star 1

Once again, the margin between success and failure was small. This game was ultimately decided by the ability to create and convert chances on the power play after a tight, even battle between two teams scrapping hard for every point in a bid to close the gap on the playoff places.

And the quality of the action was not lost on victorious Vityaz head coach Valery Belov, who rated this as one of his team's best performances of the season. He, and his opposite number Mike Keenan, saw their players produce a compelling, hard-fought encounter that genuinely could have gone either way.

In the event, it was settled by the special teams. With the game locked at 1-1 going into the third, Red Star began with a man advantage as Sergei Gimayev sat out a tripping minor. But Vityaz was strong on the PK, and got a further boost when Gilbert Brule took a double minor for high sticks. Once back at full strength, the home team converted its power play: Alexander Nikulin's feed rifled home by Alexei Makeyev to win the game.

However, for much of the encounter, our guys had the better of it. Vityaz, who played last night against Admiral, made a sluggish start: the opening period went Red Star's way, but despite playing the bulk of the game in the home team's zone, there was no way through a resolute defense. The fact that our host blocked nine shots in the opening frame, and was still outshot 11-6, highlights the pressure on the Vityaz net … and recalls once again the on-going problems Kunlun is having with scoring goals this season.

The second period could hardly have started any worse: Nikulin scored after eight seconds, the goal awarded despite a whiff of offside on the play. But it wasn't long before the game fell back into its earlier pattern. Pavel Vorobei shot Red Star level with a wrist shot from the circle that surprised home goalie Igor Saprykin in the 23rd minute and from then on it was another case of Kunlun attacking and Vityaz keeping us at bay. Jaakko Rissanen, up against his former club, was denied three times; new signing Taylor Beck also forced three stops from Saprykin. It was turning into one of those nights where the puck just wouldn't go in. Frustrations grew, and were compounded by that final stanza as another game fell just out of reach.

The action continues this weekend with another long trip to Khabarovsk for a Sunday meeting with Amur.

Official game sheet