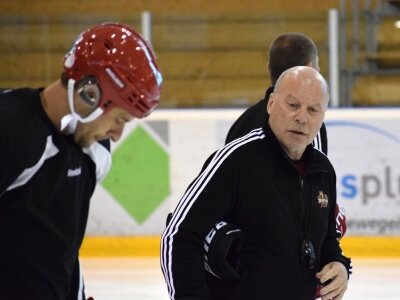 Hopes and dreams on Swiss role rehearsal
Source: Club Press-Office
10.07.2017

Just as the Swiss weather bureau foretold, the oppressive heatwave in Herisau has abated and we are now enjoying the kind of warm and pleasant summer days that not even the odd thunderstorm can spoil. And if the rain in the major cities mostly serves to wash away snow and sludge, then out in these Alpine climes it seems to have been created purely to make everything fresher, brighter and more beautiful.

For the players, sadly, the wonders of nature are only seen fleetingly through the window of the bus as it makes its ten-minute journey from the hotel to the arena, where they can look forward to many hours of double-training sessions – first in the gym, then on the ice. Then start on the ice, and finish in the gym. And on it goes. For the musical among you: more Volga Boat Song than All Things Bright and Beautiful.

The select few who took part in last year's camp cannot fail to be impressed by the huge difference between now and July of 2016, when Kunlun Red Star's first preseason training sessions were attended by six or seven players at most, and it was not until the end of the month that the club had gathered together enough personnel to resemble a hockey team roster.

Those days belong to a bygone era. Twelve months ago, we could just about scrape together one starting lineup, and now we have six skaters for every position, plus four goalies – Vladimir Yurzinov could scarcely have dreamed of having such riches at his disposal, but now Mike Keenan can devise and supervise a complete preseason training program. and maybe, in the few moments of rest each day, he can dream. "Dream of what?" – you may ask. Of the Gagarin Cup, of course. What else?