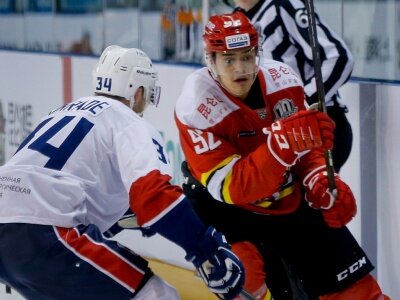 Beaten by a bogey team
Source: Club Press-Office
21.12.2017

Kunlun Red Star 0 Torpedo Nizhny Novgorod 2

The history books show that Torpedo has never been a good opponent for us: last season the team from Nizhny Novgorod defeated Red Star twice; earlier this season we went down 1-3 beside the Volga back in September. So any optimism ahead of this game had to be tempered with some caution. Yes, Kunlun came into action on the back of a good win on Monday, but it would take a big performance to challenge a strong opponent that has given us a tough time in the past.

From the start, it was clear that our defense would play a huge role here. The visitor produced an impressive first-period performance, limiting Red Star's opportunities to get into dangerous positions. However, that shouldn't be taken as a sign that the team wasn't in the game. Against one of the KHL's most notoriously hard-hitting rosters, Kunlun was determined to stand up and be counted. It's not often that the hit count goes decisively against Torpedo, but a solid effort from our guys made it hard for the visitor to create clear-cut opportunities. Joonas Jarvinen was the most active among them, putting in five checks over the course of the evening to unsettle the Torpedo forwards.

Ultimately, though, the pressure told. It's hard to produce a high-intensity checking game, shift after shift, when there's little hope of relief at the other end of the ice. And so, in the second period, Torpedo found a way through. Yegor Dugin opened the scoring in the 27th minute, rifling home the rebound after Tomas Kundratek's shot was padded away by Magnus Hellberg. Then came a calamitous error. Nikita Khystov looked to play the puck out from behind his own net, but passed directly to the opposition. Maxim Lazarev gratefully accepted the gift, and the game was gone.

The final stanza offered little. Torpedo knew it could simply stifle the remaining 20 minutes and collect the win; against a cautious opponent our offense had little chance to fire. Next up, it's Severstal on Friday followed by Spartak's visit to Shanghai on Sunday.

Official game sheet