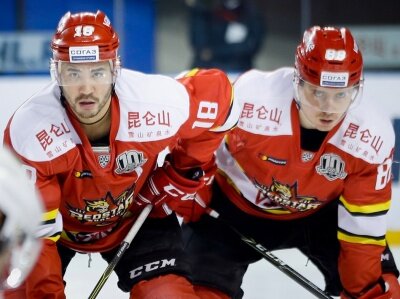 A day of firsts
Source: Club Press-Office
23.12.2017

Kunlun Red Star 2 Severstal Cherepovets 1 OT

Scoring your first goal for a club is always a special moment, and when it happens in overtime, it's even better. Just ask Arturs Kulda. Our Latvian defenseman has been a regular this season, but waited until Friday's game to open his account.

The timing was just right: in a game where Red Star had to battle after allowing an early goal, and where we spent long periods absorbing the pressure from playoff-chasing Severstal, Kulda stepped up 108 seconds into overtime to rifle home a shot from the point. Visiting goalie Julius Hudacek was caught unawares, the puck sneaked in and the game was won. Kulda had a goal to add to his three assists for the season. Interestingly, although our man isn't a regular scorer, he does have a habit of delivering important goals. His previous marker, scored in February 2016, was also a game-winner. On that occasion, he scored for Jokerit in a 3-1 victory over SKA.

Kulda wasn't the only player to get his first goal for Red Star today. Jaakko Rissanen, recently acquired from Vityaz, gave us our tying goal early in the second period. The Finn latched onto a blunder by Dmitry Kagarlitsky, seized possession and needed no second invitation to head down the ice and score on Hudacek. That was his third goal of the current campaign, and got him off the mark following his move to Red Star last month.

When Rissanen found the net, the game was even – and not just in terms of the scoreline. Severstal grabbed an early lead when Daniil Vovchenko converted the first power play of the game after a mere 80 seconds, but neither side was able to assume control of the action from then on. However, in the final frame, the visitor looked to be gaining momentum. The pressure on our net was relentless, with Magnus Hellberg making 14 saves to keep the scores level and take us into overtime. The Swede got his reward for that effort when Kulda fired in the winning goal.

The victory moves Kunlun to three wins from six games since Bobby Carpenter replaced Mike Keenan behind the bench. The playoff places remain some way off – 11 points distant after collecting two points this evening – but the fight goes on. Next up, it's a home game with Spartak on Sunday before we wrap up our 2017 program at Admiral on Dec. 29.

Official game sheet