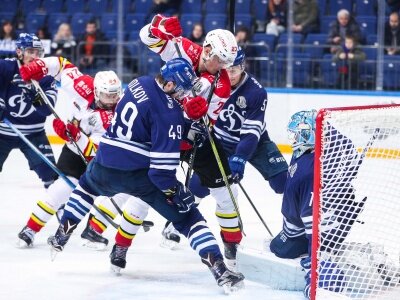 Good news and bad news
Source: Club Press-Office
17.01.2018

Dynamo Moscow 5 Kunlun Red Star 2

First, the good news. Our goalie, Magnus Hellberg, confirmed his place on Sweden's Olympic roster following an announcement early on Tuesday. Hellberg, playing his first season in the KHL, has been impressive throughout a difficult campaign for Red Star, and also acquitted himself well on international duty at the Karjala Cup and Channel 1 Cup. That success earned him a call-up to the weekend's All-Star Game in Astana, where he helped the Chernyshev Division team to a silver medal, and now he's off to the big show in PyeongChang next month. Forward Gilbert Brule will be waiting for him there, having got the nod from Team Canada last week.

The 26-year-old's stats make good reading: six shut-outs in a struggling team, an SV% of 92.8 and a creditable GAA of 2.3. He's also been in the thick of the action, facing 1316 shots in 46 games for Red Star in 2017-18. On the basis of those numbers, it's impossible to argue that his call-up – along with Dinamo Minsk's Jhonas Enroth and ex-CSKA man Viktor Fasth – is anything other than richly deserved.

However, those stats also underline the problems that Red Star has endured this season. Despite solid goaltending, goals and wins have been hard to come by. So much so that Tuesday's 2-5 loss at Dynamo ended even the faint mathematical hope of a top eight finish and condemned the team to missing out on this year's playoffs. It's a tough blow, and a frustrating disappointment after the success of Kunlun's debut season. But it needs to be set against the difficult background to the campaign: Vladimir Yurzinov's surprise departure after last year's playoff adventure, the subsequent need to overhaul the playing staff and the laudable but challenging aim of putting more of a Chinese face on the roster. Given those challenges and constraints, matching last season's form was always going to be a challenge – especially when playing away from our home base in Beijing. The guys worked hard, and did all they could, but ultimately the task proved too much. The issue now is about learning from the experience, and bouncing back stronger in 2018-19.

The trip to Dynamo saw Red Star take on an opponent in urgent need of a win to boost its own flagging playoff prospects. The Blue-and-Whites have never missed a KHL playoff before, but currently lie outside the top eight in the West. Tuesday's game, coupled with losses for Severstal and Spartak, closed Dynamo's gap, but the pressure is still very much on the Muscovites.

A highly-motivated opponent wasted little time opening the scoring: Ilya Nikulin struck after 50 seconds. But it was two goals from Finnish defenseman Juuso Hietanen either side of the midway point that really settled the game. Only in the third period did Red Star get on the scoresheet. Kyle Chipchura's power play goal wasn't the prettiest you'll ever see – the forward stuffed the puck home in a scrum in front of Alexander Yeryomenko's net – but they all count. It didn't spark a fightback – Red Star was already 1-4 behind – but it did restore a little pride. And there was a further late consolation when Kirill Lebedev's interception set up Lucas Lockhart all alone in front of Yeryomenko to add a second late in the game.

Red Star's week continues with two more road games in the West. On Thursday it's away to Dinamo Minsk, then Saturday sees a trip to Lokomotiv Yaroslavl.

Official game sheet