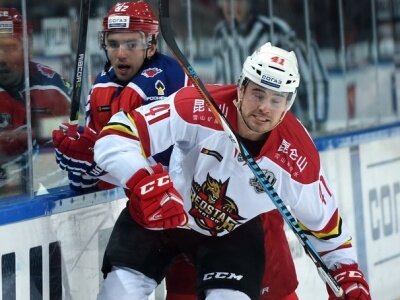 Grounds for optimism, signs of change
Source: Club Press-Office
30.11.2017

CSKA 3 Moscow Kunlun Red Star 1

It's been a busy week behind the scenes, with changes in the club's structure freeing up head coach Mike Keenan to focus solely on guiding the team out of its recent loss of form. The appointment of Raitis Pilsetnieks as General Manager also brought an immediate return with the signing of Canadian winger Taylor Beck from Avtomobilist. Beck was straight into the roster for tonight's test at CSKA as Wojtek Wolski was the latest to pick up an injury.

A quick look at the teams' recent form made it clear that the trip to Moscow was always going to be a tall order. The Army Men hold a commanding position in the Western Conference, with only the superlative SKA ahead of them. But, even after falling 0-2 behind in the first period, Red Star battled back hard. Gilbert Brule grabbed a true poacher's goal in the 26th minute, seizing the rebound after a Pavel Vorobei shot came back off the boards and firing in an effort that somehow found its way over the line via the inside of goalie Lars Johansson's blocker. CSKA D-man Artyom Blazhiyevsky desperately tried to hook the puck away from the goal, but could not stop it going in. Suddenly, it was a one-goal game, and we were right back in the battle.

For Keenan, this was a real chance to turn the game around. But, as he admitted in his post-game comments, that opportunity evaporated when Cory Kane took a penalty early in the third and Roman Lyubimov delivered the knock-out blow to make it 3-1. Keenan also highlighted the on-going injury problems within the team: currently five key players are unavailable, a factor that contributes to the lack of goal power in the team.

Speaking of goal power, Sergei Shumakov's goal for CSKA is worthy of a special mention. The host was already 1-0 up through Geoff Platt when Shumakov served up something special in the 13th minute. Lurking behind the net, he had the audacity to flip the puck onto his stick then whirl around and sling the disc through the tightest of gaps into the top corner. Magnus Hellberg was unable to react quickly enough, despite reducing the gap to a sliver, and Shumakov claimed a goal that recalled a famous Mikael Granlund effort for Finland in the 2011 World Championship. It was a memorable moment, worthy of winning the game.

Red Star's next assignment comes on Friday with a trip to Vityaz. The home team, like ourselves, is eager to haul itself closer to the playoff places after struggling to match its form from last season.

Official game sheet