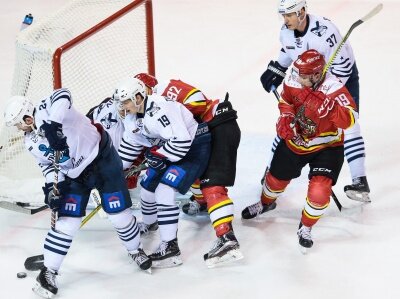 Birthday blues for Iron Mike
Source: Club Press-Office
22.10.2017

Kunlun Red Star 1 Admiral Vladivostok 2 SO

Some days, you just sense that the fates are conspiring against you. Even on your birthday. For Red Star and Mike Keenan, this was one of those days.

Our head coach celebrated his 68th birthday on Saturday. Going into that day's game at home to Admiral, he was on 99 regular season wins in the KHL. Bringing up the century would be a nice gift, no? Back on home ice, the party was in full swing until the last minute and victory was just 31 seconds away. Admiral, one of our most familiar opponents in the KHL, seemed to be the ideal guest for the occasion.

Then came the sting in the tail. Viktor Alexandrov turned up with a late, late equalizer as Admiral gambled on releasing six skaters to swarm around our net. And swarm they did, with a flurry of sticks and bodies creating a dense scrum in front of Magnus Hellberg. Out of the melee, the puck flew into the goal. Match tied, overtime now inescapable.

Neither team could find a winning goal, so it all came down to the shoot-out. Robert Sabolic, one of those taking a swing in the build-up to Alexandrov's leveller, put Admiral up. Alexandrov himself doubled the advantage. Cory Kane, our scorer in regulation time, got one back, but the visitor held on to take the verdict.

It was a frustrating end to a day that began brightly. Red Star's first-period showing was impressive, dominating much of the play even if visiting goalie Igor Bobkov never quite found himself called upon for a big save. Into the second, and Kane put us up within 10 seconds of Gilbert Brule taking a penalty call. The Admiral power play got bogged down on the Kunlun blue line, Luke Lockhart pounced, picking the pocket of Jonathon Blum and racing up the ice to test Bobkov. The first shot was blocked, but Kane was perfectly placed in support and tucked away the rebound.

After that, much of the play was fairly even. More clinical offense at either end could have settled matters long before those final, fateful seconds. Instead, not for the first time this season, Red Star was left thwarted, stuck with 'might-have-beens'. Happily, for the first time in a frantic campaign of travel, the team now has an extended period back at base in China. A chance for a bit of stability, and a schedule flexible enough to fine-tune potential into delivery. After all, the best birthday presents last far longer than the day itself.

Official game sheet