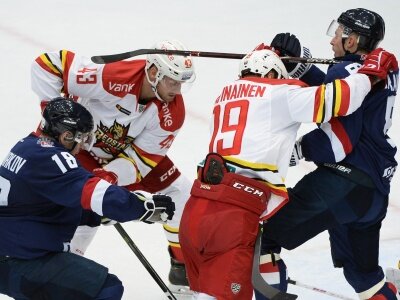 Defeated, but far from down
Source: Club Press-Office
29.09.2018

Torpedo Nizhny Novgorod 3 Kunlun Red Star 2 OT

Red Star's latest road trip has been full of drama and there's plenty of encouragement for the team after picking a fifth point in three games here in Nizhny Novgorod. After back-to-back wins in Tatarstan, hopes were high for a third successive win and another opponent conquered for the first time. The roster was boosted by the addition of experienced Canadian forward Martin St. Pierre, best known in the KHL from his time at Barys.

The 35-year-old wasted little time in making an impact – his debut goal in the third period was almost enough to win it for Kunlun – and his arrival is just one of several talking points from an absorbing game.

Oddly, though, the first period was a fairly quiet affair. It wasn't until the middle frame that things started to warm up – and how! Torpedo was already a goal up through Andrew Calof when Johan Sandstrom was ejected from the game for slew-footing after he caught Denis Parshin's standing leg as the players met in center ice. Adversity once again brought the best out of Red Star; the PK was boosted when Torpedo took a penalty of its own and Taylor Beck produced something a little bit special to tie the game during a passage of 4-on-4 play.

Losing one player might be a misfortune, losing two can be blamed on anything from carelessness to unduly strict officiating. But when Victor Bartley was spotted flicking a stick towards Anton Shenfeld, the defenseman was sent to join Sundstrom in the locker room. A long 3-on-5 situation was killed off and the scores were tied at 1-1 at the second intermission. If anyone thought things were slowing down, though, a brief scuffle just before the hooter involving Veli-Matti Savinainen and Denis Barantsev kept the action bubbling along nicely.

The third period saw Torpedo suffer its own penalty trouble. Three calls in quick succession allowed our guys to pile up the pressure and, eventually, it paid off. St. Pierre hasn't had much time to get to know his new team-mates, but that didn't stop his PP brigade putting together some neat interchanges. Finally, he exchanged passes with Marc-Andre Gragnani and slid the puck into an open net. 2-1 up, less than 10 minutes left. A third straight road win was very much on.

However, Torpedo began this season with a string of comeback wins and tonight added another to the list. Dmitry Semin tied the scores with five to play and, in overtime, a Vladimir Galuzin poke-check dropped kindly for Parshin to grab the winner.

The loss was hard to take. That's something of a mark of the rapid improvement we've seen on this latest trip. From isolated successes, the team has graduated to putting together consistent performances, night after night. Confidence is growing and we can head back to China in the anticipation of more victories when our next home stand starts Wednesday. The coming week brings home action against Metallurg, Traktor and Avtomobilist before a short trip to Vladivostok for our latest meeting with Admiral