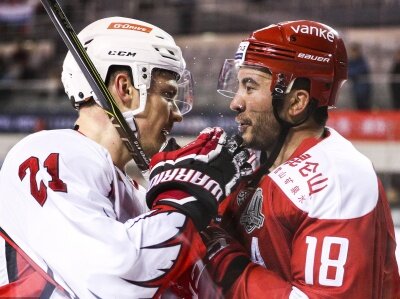 Red tape doesn't help Red Star
Source: Club Press-Office
04.01.2018

Kunlun Red Star 0 Avangard Omsk 4

After finishing the old year with a victory against a team introducing a new head coach, Red Star hoped to start the new year in similar fashion. Avangard dispensed with the services of Andrei Skabelka at the end of December, and his replacement, German Titov, was due to take the helm for the first time in Shanghai. It didn't quite work out that way, though.

New years may be a time for new beginnings, but red tape never changes. The new man needed a visa to come to China, the holidays closed down the consulates, and the paperwork could not be done in time. Defense coach Dmitry Ryabykin found himself promoted to acting head coach for the evening; Titov watched on from Russia.

That red tape rumpus did not work in Red Star's favor, though. Avangard, top of the Chernyshev Division, showed why it is out in front with a four-star show that put the skids on our New Year celebrations. The damage was done early: the visitor tore into action in the first period, dominating the play and firing in 19 shots at Magnus Hellberg's net. Two quick goals midway through the frame, from captain Evgeny Medvedev and forward Danil Faizullin, gave the Siberians a deserved lead at the first intermission.

The middle frame went better for Red Star. The team was more competitive, with Brandon Yip and Gilbert Brule proving a regular thorn in the side of the visiting defense. However, neither could find a way past Avangard goalie Oleg Shilin and the promise of an improved performance was dashed a minute before the hooter when Faizullin got his second of the game to make it 3-0.

Frustration was the name of the game in the third as well. For all Kunlun's effort, Shilin proved unbeatable. The goalie made 32 saves as Avangard shut out our offense for the second time this season, then Ilya Mikheyev rubbed salt in the wounds with a fourth goal seconds from the end. On paper, it made for a one-sided scoreline, but behind the bench, both coaches saw a rather closer game.

"We didn't start badly, but a couple of individual errors cost us two goals in the first period," said Bobby Carpenter. "After that, I felt that we had the game under control but even so we ended up losing in the second period. And, in the third, there were too many penalties and that prevented us from getting back into the game."

His opposite number, Ryabykin, insisted that Avangard didn't have it easy in its first game under new coaching. "It wasn't as simple as it looked, especially in the second period," he said. "Our goalie was excellent."

Red Star's latest home stand continues Friday with the visit of Ugra. Then it's Sibir on Sunday before we set off for our final trip West in the regular season.

Official game sheet