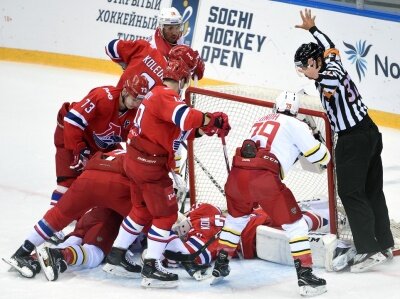 Another tough battle
Source: Club Press-Office
07.08.2018

SOCHI HOCKEY OPEN
Kunlun Red Star 0 Lokomotiv Yaroslavl 2

For the second game in a row, Red Star struggled to find the net. A solid defensive display limited Lokomotiv's chances – but the flip side was a shortage of clear scoring chances at the other end. And, once again, when the shots did come in, the opposing goalie was up to the task. In contrast with Sunday's game, when we were up against a very familiar goalie in Magnus Hellberg, today we faced young Ilya Konovalov, a player rarely seen by KHL players.

However, it's important to remember that this is only pre-season. Just as defeating HC Sochi in the first game here couldn't be taken as evidence that Jussi Tapola had solved all the team's problems, so losses against SKA and Lokomotiv don't mean that the coming season is destined for disaster. Instead, these games are all about identifying the strengths of our roster – and finding ways to compensate for any weaknesses. That's especially true of our Chinese prospects, and head coach Tapola is happy with their contribution thus far.

"Our Chinese players are still working, learning and playing," he said. "They haven't played much at this level, but I'm sure they will improve through practice and game time. These are guys with great potential, but they still have to understand our systems. After that, it will come down to their personal qualities."

In Monday's game, a goal late in the first period from Georgy Ivanov gave Lokomotiv a decisive advantage. Once again, Red Star battled hard and had opportunities to tie the game. However, a lack of clinical finishing in front of the Yaroslavl net cost our guys. Towards the end, a string of good chances almost took the game into overtime, but Konovalov was in fine form to keep Kunlun at bay before an empty net goal from Andrei Loktionov sealed our fate.

"It was a tough, hard-fought game," added Tapola. "It was another good chance to test ourselves against one of the most combative teams in the league."

As for the future, work continues to find more talent for the roster. However, the emphasis is very much on quality rather than quantity. "We'd like to find more players, but we need good players. If we can find them, we'll sign them up; if not, that means more chances for our young Chinese players," said Tapola.