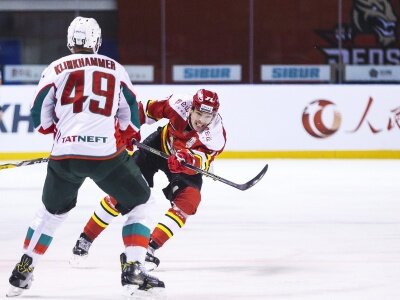 Canadian call-ups and battles with the leader
Source: Club Press-Office
28.10.2017

Kunlun Red Star 1 Ak Bars Kazan 2

A day after four of Red Star's players got call-ups for Team Canada's roster at next month's Karjala Cup in Finland, they got a sneak preview of some of the opponents they might face during the Euro Hockey Tour event.

Defensemen Jesse Blacker and Geoff Kinrade, plus our top-line forwards Gilbert Brule and Wojtek Wolski, were all selected in Willie Desjardins' squad as the Canadians assess their options ahead of February's Winter Olympics in Korea. And, on Friday, they faced off against candidates for Russia's roster, including veteran defenseman Andrei Markov and promising forward Vladimir Tkachyov, when Ak Bars came to town. They also encountered one of their own international team-mates in waiting, Rob Klinkhammer, the only Kazan-based player available to don the Maple Leaf next month.

Canada vs Russia is always a big hockey rivalry, even when played out by proxy in far-away Shanghai. Thus, it was no surprise that this game was a hard-working, competitive affair. The play was not always rich in goalmouth incident, but it remained an absorbing watch as the teams battled hard to find a way to each other's net. Considering the gap between the two sides in the league rankings – with Ak Bars in a commanding position at the top of the Eastern Conference while Red Star battles for a playoff spot – the home team did a fine job of dragging its rival into a competitive game.

The first period was a fine display of disciplined play, blunting the visiting offense and implementing the defensive systems developed to stifle the threat of the conference leader. In the middle frame, despite falling behind, Kunlun generated more offense than Ak Bars. The early exchanges saw Kyle Chipchura test Emil Garipov from close range before Brandon DeFazio robbed Markov on his own blue line and dinged a shot against the crossbar. Ak Bars got a rare chance to attack when it won a power play, and Alexander Svitov opened the scoring, but Red Star hit back to tie it up through DeFazio. This was another goal made by sheer tenacity: Wolski battled hard behind the net to wrest the puck from Albert Yarulin, and his feed presented his team-mate with a chance that was too good to miss.

This game only got away in the final stanza. Nikita Yazkov's 48th-minute goal – an impressive individual effort – proved decisive and, once in front, Ak Bars could take advantage of players tiring to lock down much of the ice in the closing stages and hold on to what it had.

So, the frustration continues. It's now four games without victory. Mike Keenan remains poised on 99 career wins in the KHL. The next game sees Neftekhimik visit on Tuesday, Hallowe'en, the ideal time to end a nightmare run.

Official game sheet