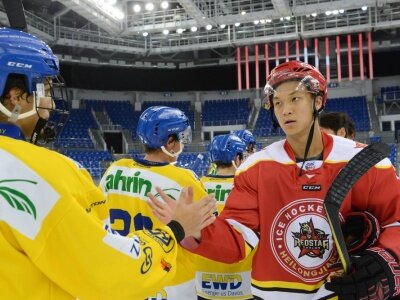 Juniors on a learning curve
Source: Club Press-Office
28.08.2018

While the first team was continuing its preparations for the KHL campaign in St. Petersburg, our juniors were in Sochi to compete at the prestigious World Junior Club Championship.

It was another historic moment for our club: Red Star became the first Chinese team to take part in this annual event, rubbing shoulders with the top young players from Russia, Canada, Sweden, Finland, Switzerland, Austria and the Czech Republic.

If that sounds like a tall order, there's no doubt that it was a tough call for our kids. Head coach Steve Casper selected a roster that combined emerging local talent and a smattering of import players looking for a new direction in their development. Many of the players were on try-outs, hoping to do enough to get a contract to play in our up-coming MHL season out of our junior base in Harbin.

Up against the best in the world, results appeared lop-sided, at least at first glance. High-scoring losses against Loko Yaroslavl, Ottawa Capitals and Jokerit Helsinki put our team bottom of its group. A play-off for seventh place against HC Davos of Switzerland also went against us. There were a few highlights – grabbing a sensational early lead against Loko, the eventual winner, stands out. Moreover, that goal, shorthanded, went to Zuo Runcheng when he punished lapse defense from the Russians. Casper was pleased to see a home-grown player making an impact, but admitted that there was a gulf in class that his young team needs to make up once the up-coming season starts.

"We started with a good five minutes but then we were unable to match the level of our opponents," he said. "The one positive moment was that we managed to score a goal, and it was a Chinese player who did it."

Zuo wasn't the only Chinese player to find the target. Over the course of the tournament, Jing Wang and Qianyi Huang also scored. The potential is there, but it will take time to emerge in full. As Casper said before the tournament began, this is very different from hockey in his native Canada. "China is like the polar opposite of Canada, where everybody knows the rosters of even the junior and youth teams by heart," he told the MHL website. "So far, very few people in China are interested in hockey, many of them have never even heard of the NHL. So this is a challenge for me. I want people to see our hockey once and fall in love with the game. But that can't happen overnight. We need to open our doors, bring more expertise from Russia, from North America, establish summer schools, get kids on skates from the age of four."

Despite the heavy losses in the tournament, Casper found more positives from our time beside the Black Sea once the tournament was over.

"I can't be happy with the results – after all, we didn't win a game," he said after the 2-5 loss against the Swiss. "But we created a great atmosphere here in Sochi: a luxury hotel, an excellent arena, upbeat staff and interesting opponents. Overall, I'll take away positive memories, I'm glad we came here."