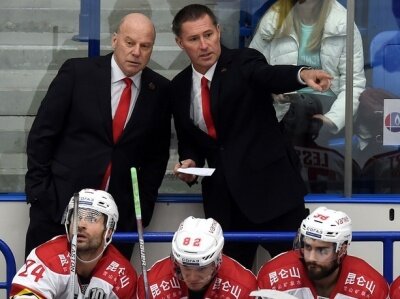 Keenan relieved of duties as head coach, Carpenter named interim
Source: Club Press-Office
03.12.2017

Mike Keenan has been relieved of his duties as the head coach of the team. Bobby Carpenter has been named the interim head coach, effective immediately.

Keenan, 68, joined the Red Star in March 2017 and led the team to a record of 12-16-8 this season. He will remain with the organization as an Executive Member of the Kunlun Red Star International Advisory Board.

Carpenter, 54, appeared in 1,178 games in the National Hockey League from 1981 to 1999, registering 728 points with five different teams. He also served as an assistant coach with the New Jersey Devils from 2000 to 2004 and as a team consultant with the Toronto Maple Leafs from 2009 to 2015. The former 3rd-overall NHL draft pick has won three Stanley Cups with the Devils: once as a player (1995) and twice as an assistant coach (2000, 2004).

Cliff Ronning and Igor Kravchuk will remain as assistant coaches with the Red Star.