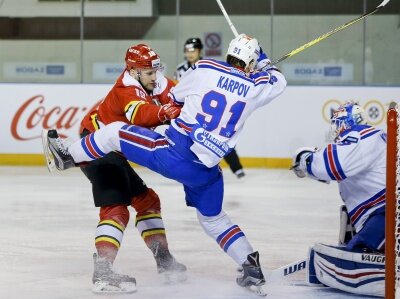 Champion delivers a masterclass
Source: Club Press-Office
19.11.2017

Kunlun Red Star 1 SKA St. Petersburg 8

When our club was formed – and don't forget that the organization is still a little way short of its second birthday – one of the major reasons behind creating a KHL team was the chance to witness hockey at its best. Of course, the ultimate aim was and is to establish a strong team here in China, to turn Red Star into an outfit capable of challenging for honors. But, along the way, it was understood that the way to introduce hockey to a new audience meant bringing some of the best players in the world to arenas in Shanghai and Beijing, and allowing the Chinese public to witness the skill, commitment and excitement of our sport in person.

SKA represents the very best that the KHL has to offer. Gagarin Cup winners in two of the last three seasons, under the guidance of Oleg Znarok the team has gone from strength to strength this time around. Defeats have been scarce, and only one game ended with the Army Men failing to collect at least a point. The roster oozes talent, and the line-up on any given evening is strong enough to test any team in the world. Against that background, today's one-sided encounter is less of a failure and more of a valuable lesson, an illustration of the standards we at Red Star are striving to achieve.

Of course, it helps any team to be able to call on the talents of a player like Ilya Kovalchuk. Instrumental in those Gagarin Cup triumphs, a key figure in Russia's long-awaited World Championship success in 2008 and a hugely gifted and decorated forward. Today, he produced another demonstration of what it means to be a world-class player, claiming a hat-trick and dominating the game. Every maestro needs an able supporting cast: Nikita Gusev, potentially the next big star of Russian hockey, chipped in with a goal and two assists, Vadim Shipachyov contributed two assists as he continues his productive return to the KHL.

While praising SKA, it's also fair to point out that our team played its part in this game. Early on, the action was competitive enough to make the eventual scoreline seem unlikely. Two quick SKA goals late in the first period shattered our defensive resolve, but didn't prevent Brandon Yip from halving the deficit at the start of the middle frame. After that, though, it was one-way traffic. SKA produced another quick-fire double, with Kovalchuk and Gusev scoring barely a minute apart. Kovi notched another late in the session and, with the game out of reach, SKA rattled in three more in the final frame. A tough evening for our guys ended with another blow as Wojtek Wolski was ejected from the action in the last minute after a clash with SKA's Ilya Kablukov.

Following today's loss, our guys have a brief pause to prepare for the visit of Lokomotiv on Nov. 24.

Official game sheet