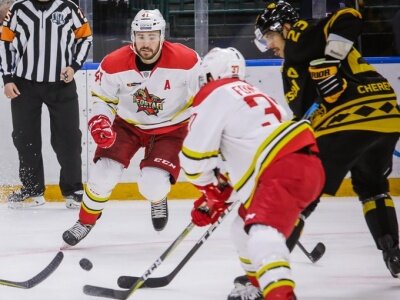 Ready for the real deal
Source: Club Press-Office
27.08.2018

Red Star's final pre-season action of the summer took the team to St. Petersburg for the annual Puchkov Memorial Tournament – and our guys showed off the progress they have made since regrouping in Riga back in June.

Getting stronger through each of the four games played, Kunlun finished with three wins and just one loss – a 1-4 reverse against host club SKA, which went on to take the trophy. Along the way there were wins against Sochi (for the second time this summer), Jokerit and Severstal – very much the kind of playoff chasing opposition we need to be matching throughout the upcoming campaign.

It all added up to a third-place finish among the six teams in the competition (the schedule denied us a meeting with Avangard, which came second behind SKA) – an encouraging result against a clutch of opponents with high expectations for the coming campaign.

There were bright spots among the individual performances as well, especially in Monday's convincing 5-1 victory over Severstal to sign off on the competition. Our new-look line of Taylor Beck, Justin Fontain and last week's acquisition Rok Ticar did superbly, combining on four of the five goals. The group has not been together for long, but already there are signs that something special is developing.

There are also signs that some of our forwards are developing scoring specialities. Veli-Matti Savinainen and Greg Squires have proven a proficiency in producing against Sochi, Brandon Yip continued his run of goals against SKA. Most important, though, after struggling for goals last season there is already evidence that the offense will be more potent in 2018-19 – a big step forward, considering how hard it is to win games without scoring.

And so the summer comes to an end, the phoney war is over and the real stuff is about to begin. Once again, as a club, we can reflect on significant progress. It's not just the steady improvement of results as the meaningful action draws closer. It's also the evidence that, behind the scenes, we are moving closer to our long-term goal of developing Chinese hockey.

Two years ago, when Red Star went into its first pre-season, the prospect of having 16 Chinese-eligible players dressed on one night seemed unimaginable. In the Czech Republic this summer, it happened. Whether many of them get the chance to feature in the KHL remains to be seen, but the fact remains that our home-grown players are seeing a higher level of hockey than ever before – something that can only benefit the development of the game here.

At a junior level, also, there was progress. Our team went to the prestigious World Junior Club Cup, taking on some of the best in the world in that u20 age group. Of course, it was a steep learning curve for an organization that did not have a junior team at all until 12 months ago, but it's sure to be another valuable step in the evolution of Steve Casper's program to tap into the best prospects that the People's Republic can offer.

And now, of course, it's all about the real deal. Our season gets underway in Helsinki on September 3 and continues in Sochi two days later. A repeat of our Petersburg results against those opponents would make for a fine start to our third season of KHL action.

Photo: SKA official website