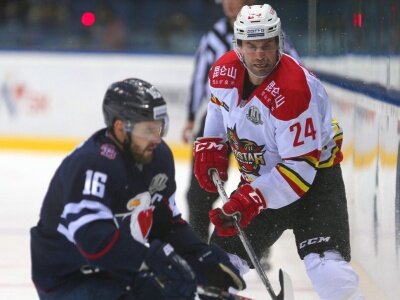 Way out west
Source: Club Press-Office
28.11.2017

Slovan Bratislava 2 Kunlun Red Star 1 OT

In times of trouble, 'Go west!' was often the cry. From the old world to the new, then from the densely populated cities of the east coast to the wide expanses of the west. For Red Star, a run of 14 losses in 16 games certainly represented trouble, and the schedule ordered our longest trip of the season as the team looked to uncover brighter prospects.

Slovan has been a happy opponent in the past: last season Red Star won in overtime in Bratislava thanks in part to a goal crafted by two Slovak players on that roster, while Slovan's two trips to China both ended in 2-0 victories for our team. Could that run continue and deliver a vital boost after the disappointments of Kunlun's recent home stand?

Up to a point, yes. Just like last season, this was a tight game. Once again, it was tied 1-1 in regulation and went to overtime. Slovan took the lead early in the second period through Jan Buchtele, but this time we replied through Gilbert Brule when the Canadian put away the rebound from Jesse Blacker's shot.

However, there were differences. Back in January, Red Star fired in twice as many shots as Slovan; this time, it was tilted firmly back towards the host. Ultimately, a disallowed goal from Wojtek Wolski in the third period summed up Red Star's day: Blacker's deflected shot flashed towards the forward's skates, and Wolski instinctively steered the puck into the net. Unfortunately, though, he used his blade, not his stick; fancy footwork that wasn't going to impress the game officials.

Neither side could muster a legitimate goal in the final stanza, and that sent the game to overtime. The extras lasted a mere 27 seconds, though, before Zach Boychuk made an interception in center ice and went racing away to a one-on-one with Hellberg. The Canadian is in deadly form at the moment, and his blocker-side finish brought him a sixth goal in four games to give Slovan the verdict.

Red Star's short Western tour continues with a visit to CSKA on Wednesday and Vityaz on Friday before a long flight back to the Far East for games with Amur and Admiral.

Official game sheet